Slow Food
Oxhide II
and the art of dumpling making
"Every festival that's serious about the art of cinema should pledge to show Oxhide II." That's what David Bordwell had to say about the second feature by Chinese independent filmmaker Liu Jiayin. A follow-up to her debut family saga Oxhide, this homemade epic (shot in makeshift Cinemascope by masking the top and bottom sections of Liu's camera lens with tape) consists of nine shots and a cast of three people (Liu and her parents), a thoroughly utilized table, and over 100 dumplings whose construction and consumption are meticulously documented. While Oxhide II enjoyed exposure at Cannes and Rotterdam, no major American fests heeded Bordwell's call; it was the Wisconsin Film Fest (in Bordwell's hometown of Madison) that held its U.S. premiere last April.
Oxhide II is enjoying a resurgence this spring, with one-off showings in Oregon, Los Angeles, and at the Museum of the Moving Image, thanks to the curatorial efforts of Shelly Kraicer, Cheng-Sim Lim, and Bérénice Reynaud. This video essay uses Bordwell's notes on Oxhide II, originally published on his blog Observations on Film Art, as a script to examine the film in depth. Additionally, we've translated Bordwell's analysis into Chinese to produce a bilingual commentary that alternates between spoken Mandarin with English text and spoken English with simplified Chinese text. We hope these efforts might make Bordwell's insights more accessible to the film's native language audience—and perhaps induce a much-needed Chinese language edition of Bordwell's invaluable study Planet Hong Kong. —Kevin B. Lee


LATEST ARTICLES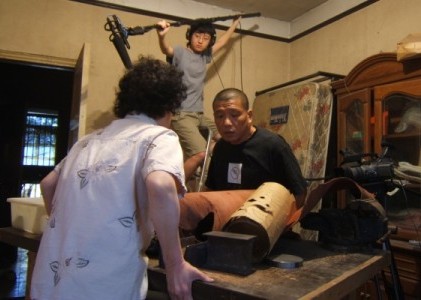 THE AUTHORS
David Bordwell is Jacques Ledoux Professor Emeritus of Film Studies at the University of Wisconsin-Madison. His many books include the new Minding Movies: Observations on the Art, Craft, and Business of Filmmaking (a selection of essays from his and Kristin Thompson's blog) and Planet Hong Kong: Popular Cinema and the Art of Entertainment (recently issued in a second edition as an e-book).
More articles by
David Bordwell
Author's Website:
David Bordwell's website on cinema
Kevin B. Lee is editor of the Keyframe journal at Fandor and programming executive at dGenerate Films.
More articles by
Kevin B. Lee