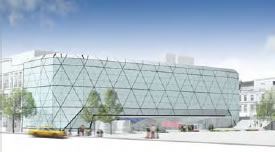 SITE OVERVIEW
Moving Image Source is a website devoted to the history of film, television, and digital media. It features original articles by leading critics, authors, and scholars; a calendar that highlights major retrospectives, festivals, and gallery exhibitions at venues around the world; and a regularly updated guide to online research resources.
The site is updated regularly with additions to the Articles and Calendar sections. The articles relate to recent and ongoing retrospectives and gallery exhibitions as well as to significant new DVDs and books on film, media, and moving-image culture.
The Moving Image Source Calendar is a selective guide to major screenings, series, festivals, and gallery exhibitions. Calendar entries include program summaries, exhibition descriptions, titles of films or featured works of media art, and links to the presenting venues. The Calendar draws on the programming of more than 100 museums, media arts centers, cinematheques, and other venues that regularly present film and media programs. An international Venue List can be found in the Calendar section: venues on the list emphasize original programming and the presentation of work in its original format or large-scale gallery exhibitions.
The Moving Image Source Research Guide is an annotated and regularly maintained database of more than 400 of the best moving-image related resources on the web, ranging from scholarly and popular journals to film-related libraries and archives.
FUNDING AND CREDITS
Moving Image Source was made possible with a gift from the Hazen Polsky Foundation in memory of Joseph H. Hazen. Additional support has been provided through the National Endowment for the Arts.
Technical development and production: Bandwidth Productions
Graphic design: karlssonwilker inc
Site hosting: Logicworks
STAFF
Editor-in-Chief
Dennis Lim, Editorial Director, Museum of the Moving Image
Editor-at-Large
David Schwartz, Chief Curator, Museum of the Moving Image
Museum of the Moving Image
Wendell Walker, Deputy Director for Collections, Exhibitions, and Design
Christopher Wisniewski, Deputy Director for Education
Jason Eppink, Assistant Curator of Digital Media
Marion Miclet, Editorial Assistant
Moving Image Source Research Guide
Dana Polan (advisor), Mal Ahern, Nathaniel Brennan, Leo Goldsmith
Copy Editor
Joshua Land
Interns
Dan Chyutin, Victoria Cooper, Maria Lund, Tom McCormack, David Pratt-Robson, Kate Schlauch, Aidan Tumas, Rachel Whitaker
Special Thanks
Nina Dinoff, Henry Lowood, Ross Melnick, Christiane Paul, Zach Vowell
CONTACT US
Please send questions or comments to source@movingimage.us.
Suggestions for the Venue and Festival List and the Research Guide are welcome. We cannot guarantee a reply to unsolicited article submissions.
Museum of the Moving Image
36-01 35 Avenue
Astoria, New York 11106

Phone: 718-784-4520
Fax: 718-784-4681