Fun City (Pt. 4): Crime and Punishment / Fish Out of Water...
French Connection, Across 110th Street, Coogan's Bluff, Midnight Cowboy
Program notes for The French Connection, Across 110th Street, Coogan's Bluff, and Midnight Cowboy

This is part of a series of articles by J. Hoberman about the film series Fun City: New York in the Movies 1966-1974, which he curated for Museum of the Moving Image. The series runs from August 10 through September 1, 2013. Articles about all of the films in the series will be posted in the coming weeks. See the series schedule.
Read the series introduction here.

Read program notes about You're a Big Boy Now, Cotton Comes to Harlem, Norman Mailer vs. Fun City, Bye Bye Braverman, and Serpico (part 2) here.

Read program notes about Rosemary's Baby, Little Murders, The Landlord, and The Angel Levine (part 3) here.


Saturday, August 24: CRIME AND PUNISHMENT NYC

The French Connection. Directed by William Friedkin. Written by Ernest Tidyman, adapted from the book by Robin Moore. Produced by Philip D'Antoni. Released by Twentieth Century Fox. Opened at Loew's State 2 and Loew's Orpheum, October 7, 1971.

Across 110th Street. Directed by Barry Shear. Written by Luther Davis, adapted from the novel Across 110th by Wally Ferris. Produced by Ralph Serpe and Fouad Said. Released by United Artists. World premiere at the Loew's Victoria Theater, December 18, 1972.
 "The French Connection is a film of almost incredible suspense and it includes, among a great many chilling delights, the most brilliantly executed chase sequence I have ever seen. But the conditions for the suspense (indeed, the conditions of the chase—to intercept a hijacked elevated train) carry with them the potential for failure not of this particular action, but all action in the great doomed city that is the film's real subject."—Roger Greenspun, The New York Times, October 8, 1971.

Fraught with urban decay and racial animus, The French Connection created a new paradigm for the tell-it-like-it-is cop drama; 40 years after its release, William Friedkin's bang-bang procedural, based on the 1962 heroin bust that was largest in the annals of the NYPD, remains the quintessential New York City policier.

Friedkin, who had shot his previous movie, The Boys in the Band, entirely in New York, here used 86 separate New York locations to ground the fantastic exploits of Gene Hackman's narcotics cop Popeye Doyle and his more low-keyed partner (Roy Scheider) in a gritty naturalism, if not a crumbling mess. "The central characters repeatedly appear as if out of the city's mass and then disappear into it again," Roger Greenspun noted in his The New York Times review.

Popeye is the prince of Fun City, crowned with an absurd porkpie hat and inhabiting his part so totally, it is amazing that Jackie Gleason and Jimmy Breslin were among the half-dozen personalities first considered for the role. Still, blue-collar to the bone, he lives in public housing and feeds his face with a rancid-looking pizza slice in the course of a freezing afternoon spent staking out the Upper East Side boîte where the gourmand French smuggler who is about to unload 100 pounds of uncut heroin (debonair Fernando Rey) leisurely consumes a multi-course feast.
Being a cop is Popeye's vocation; he establishes his street credibility early on by single-handedly browbeating and brazenly N-wording the patrons of a Black-only bar, then pursuing a perp through a few blocks of a Brooklyn ghetto (actually shot in East Harlem), a collar that sets us up for the movie's greatest sequence. The justly celebrated car and elevated subway chase through a 30-block stretch of 86th Street in Bensonhurst (from the Bay 50th Street station to the station on 62nd Street) required an actual Transit Authority motorman on set and five weeks to complete. (After the filming, the subway car #4572 was put back in service on the M and Z lines in Brooklyn.)

The French Connection was the third highest grossing film of 1971 and swept the Oscars, winning Best Picture, as well as awards for its 32-year-old director, on-screen anti-hero Gene Hackman, screenwriter Ernest Tidyman, and secret star, editor Jerry Greenberg. Not everyone was a fan: "The movie is like an aggravated case of New York," Pauline Kael wrote, expressing distaste for more than the movie while, more a hometown booster, Daily News critic Kathleen Carroll complained that "New York hasn't looked this ugly since Klute."

While it has the obligatory end-title follow-up, The French Connection was released too early for the ultimate punch line: The year after the movie opened it was revealed that the huge cache of heroin seized as evidence had been stolen from the office of the New York City property clerk.

Across 110th Street is not for the squeamish. From the beginning to the end it is a virtual blood bath.  Those portions of it which aren't bloody violent are filled in by the squalid location sites in New York's    Harlem or equally unappealing ghetto areas leaving no relief from depression and oppression. There's not even a glamorous or romantic type character or angle for audiences to fantasy-empathize with.-- Variety (12/26/72)
Strange as it may seem at first sight, Across 110th Street is an audacious commercial experiment: It's the first film with white stars to be aimed at the black exploitation market. —Stuart Byron, Boston Real Paper (1/2/73)
Using an exit sign off the Henry Hudson Parkway as its title card and fueled by Bobby Womack's insinuating theme, Across 110th Street is the least glamorous and most violent of New York Blaxploitation films. Barry Shear's follow-up to Wild in the Streets, a bloody farrago of corrupt cops, ghetto hustlers, and downtown mobsters was directed (with "a sledgehammer" per New York Post reviewer Archer Winsten) from a novel by a former Channel 5 news cameraman. Three down-and-out brothers boost a Harlem numbers bank, nabbing $300,000 and killing two cops in the process, thus insuring that they will be marked men to be shot on sight by the police, the Mafia, and the local mobsters they robbed. "If the filmmakers had cared to concentrate on the political or social implications of such a story, they could have produced a kind of Battle of Algiers in Harlem," Jay Cocks wrote in Time, linking this generally despised action gore-fest to the most incendiary art film of the 1960s.

The Battle of Algiers had a measure of aesthetic distance; Across 110th Street has none. "Ugly & brutal," I wrote in my film notebook after catching the movie in its second run at the Olympia Theater, a movie house on Broadway and 103rd street where a few years later, I (very) briefly served as house manager before being clobbered with a metal pipe up in the balcony. "A real vision of Hell & a quantum leap ahead of SUPERFLY, DIRTY HARRY or THE FRENCH CONNECTION. Doesn't postulate fascist super-men or exploit city locations in a thriller vacuum. Really does take place entirely in bars, garages, police headquarters, tenements w occ. ref to places like the Port Authority. Black/Mafia/cop clichés are juggled with a mythic density."

Infinitely grimmer than, but not unrelated to, Cotton Comes to Harlem, Across 110th Street also focused on a pair of cops, the corrupt racist veteran (Anthony Quinn) and his humane , honest lieutenant (Harlem-born Yaphet Kotto) and advances a desire for community control. As if to make the point, Quinn, whose company produced the movie, held its world premiere in Harlem (a first), at the Loews Victoria, on 125th Street, as a benefit for the Manhood Foundation, a Harlem-based counseling and job-referral agency aiding ex-offenders.
Sunday, August 25: FISH OUT OF WATER, STRANGERS IN TOWN
Coogan's Bluff . Produced and directed by Don Siegel. Written by Herman Miller, Dean Reisner, and Howard Rodman. A Universal release. Opened at the DeMille and Loew's Orpheum Theaters, October 2, 1968.
Midnight Cowboy. Directed by John Schlesinger. Written by Waldo Salt, adapted from the novel by James Leo Herlihy. Produced by Jerome Hellman. Opened at the Coronet Theater, May 25, 1969, Coronet Theater.

"Don Siegel has shot some authentic footage around New York, notably atop the Pan Am building and around the Cloisters but the look of the film is fake to the core."—Andrew Sarris, Village Voice, October 31, 1968.
That, of course, is the point. The title may pun on the location of the Polo Grounds, a tenement stoop of a ballpark once home to the New York Giants and years later, the New York Mets, but Coogan's Bluff is an outsider's riff on Fun City. It's also the prodigal's return—Clinton Eastwood's second Hollywood movie after achieving international stardom in Sergio Leone's Italian westerns.

Eastwood, cast as an Arizona deputy sheriff known only as Coogan, comes to the land of filthy streets and dirty-mouthed kooks to extradite an LSD-crazed hippie fugitive and finds himself cheated by cabbies, insulted by hookers ("Texas faggot!"), and camped on by homosexuals ("Get her!" somebody shrills as he scowls his way through the precinct house). He is chastised by a liberal, proto-feminist social worker ("we don't treat people like that in New York"), dissed by a hostile Black detective as "Buffalo Bill in a fancy hat," attacked by his prey's strident, vaguely Jewish mother (Betty Field giving "a good imitation of Shelley Winters" per Daily News critic Wanda Hale), and ultimately arrested for impersonating a cop.
The action reaches its high point in Fort Tryon Park, overlooking the Hudson, but the its period acme is Coogan's visit to a strobe-ridden disco called The Pigeon-Toed Orange Peel, where movies are projected on the wall, the floor lights up, and bare-chested boys cavort with girls nude beneath their Day-Glo body paint. The sequence was not shot in Fun City but vast the set that Universal built for their 1943 version of Phantom of the Opera. Siegel recalled hiring 125 extras plus over 400 real hippies: "It made the famed New York discotheque Electric Circus look second rate!"
 "We were walking up 42nd Street one day, with John Schlesinger and I believe Waldo [Salt], looking  for places to shoot. We were coming around a corner and someone dropped in front of us. Just fell face-forward. And John said: 'That's got to be in the movie!' And that's where the dead man in front of Tiffany's came from."—Midnight Cowboy producer Jerome Hellman
A more hapless westerner than Coogan coming east to Fun City to make his fortune, drugstore cowboy Joe Buck (John Voigt) would encounter many of the same misconceptions. The wannabe gigolo leaves Texas and winds up hustling on 42nd Street, bonded with the blighted block's genius loci, the tubercular thief Ratso Rizzo (Dustin Hoffman in first movie performance since The Graduate) who, when he first sees Joe in his rodeo duds, sneers, "That's faggot stuff." Buck is amazed: "John Wayne—you gonna tell me he's a fag?" That this exchange is not found in James Leo Herlihy's novel suggest that it may be the revenge of once-blacklisted screenwriter Waldo Salt on the personification of Hollywood anti-Communism.

Characterized by Daily News reviewer Wanda Hale as "a grim, raw, lewd drama of the people in this town from Times Square westward," Midnight Cowboy was probably the most romantic New York movie of its era and was certainly the most loved. John Schlesinger's movie won the Academy Award for Best Picture and two other Oscars despite being the first major studio production to be branded with an X. (Perhaps the extent of the Academy's anxiety over the movie's unwholesome implications was assuaged by the simultaneous honoring of Wayne as Best Actor for True Grit.)

As fake in its way as Coogan's Bluff, Midnight Cowboy had a far greater concern for authenticity. Scenes were shot in an abandoned West Village tenement and in order to film freely in Times Square, cinematographer Adam Holender contrived a special blind: "We built an oversized wooden telephone booth, we mounted the camera and the tripod inside, we put a camera operator and a focus-puller inside… That whole box was unloaded on 42nd Street, on the sidewalk [where] we were able to slide the wooden door open and shoot people who were on the street." Schlesinger even hired a gaggle of Warhol regulars, including Viva, Ultra Violet, International Velvet, and Paul Morrissey to appear at the film's requisite pot orgy of depravity. According to producer Jerome Hellman, the party lasted over three days; by some accounts, the scene was being filmed when Andy Warhol was shot on June 3, 1968.

"Midnight Cowboy often seems to be exploiting its material for sensational or comic effect but it is ultimately a moving experience that captures the quality of a time and a place," Vincent Canby wrote in The New York Times. "It's not a movie for the ages but, having seen it, you won't ever again feel detached as you walk down West 42nd Street, avoiding the eyes of the drifters, stepping around the little islands of hustlers and closing your nostrils to the smell of rancid griddles."

LATEST ARTICLES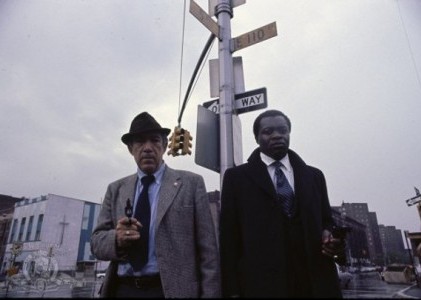 THE AUTHOR
J. Hoberman is a renowned film critic whose latest book, Film After Film: What Became of 21st Century Cinema, was published by Verso. He was the senior film critic at the Village Voice, and he now writes for numerous publications including Artinfo.net and The Tablet. His writing is aggregated at his website, j-hoberman.com.
More articles by
J. Hoberman