Fun City (Pt. 2): Location Comedies / Two Sides of Sidney Lumet
You're a Big Boy Now
,
Cotton Comes to Harlem
,
Bye Bye Braverman
,
Serpico
This is part of a series of articles by J. Hoberman about the film series Fun City: New York in the Movies 1966-1974, which he curated for Museum of the Moving Image. The series runs from August 10 through September 1, 2013. Articles about all of the films in the series will be posted in the coming weeks. See the series schedule.
Read the series introduction here.

Read program notes about Rosemary's Baby, Little Murders, The Landlord, and The Angel Levine (part 3) here.
SATURDAY, AUGUST 10: LOCATION COMEDIES: WELCOME TO FUN CITY

You're a Big Boy Now. Directed and written by Francis Ford Coppola, adapted from the novel by David Benedictus. Produced by Phil Feldman. Released by Seven Arts. Opened at the Baronet Theater, March 20, 1967.

Cotton Comes to Harlem. Directed by Ossie Davis. Written by Davis and Arnold Perl, adapted from the novel by Chester Himes. Produced by Samuel Goldwyn Jr. Released by United Artists. Opened at the DeMille and 86th Street East Theaters, June 10, 1970.

"With a marvelously alert pictorial eye and using his color camera like a frenetic, kaleidoscopic blotter, Mr. Coppola figure-skates his picture all over our town, which has never looked more radiantly scenic."—Howard Thompson, The New York Times, March 21, 1967

You're a Big Boy Now, "Francis Ford Coppola's psychedelic gambol through the Village, Central Park, Times Square and the New York Public Library," per Kathleen Carroll's Daily News review, was, she wrote, a "happening." It was also the first feature production to avail itself of Mayor Lindsay's new deregulations. The movie was entirely made in New York and the sequences shot in the 42nd Street library required Lindsay's personal intervention.

In addition to the mayor, You're a Big Boy Now also made ample use of the city's indigenous talent. In addition to its youthful principals (Peter Kastner, Elizabeth Hartman, and, in her film debut, Karen Black, all of whom had graced New York stages), Coppola featured a number of well-known Broadway stars (Julie Harris, Geraldine Page, and Rip Torn) as well as a score by Bleecker Street's answer to the Beatles, the Lovin' Spoonful.

Very much a product of the Hollywood New Wave, You're a Big Boy Now was directed by a 26-year-old one-time resident of Queens clearly impressed by Richard Lester's mod stylistics in The Knack and A Hard Day's Night. Coppola's first official feature (following his precocious American-international horror film, Dementia 13) was released a few months after The Graduate and suffered somewhat by comparison. Still, as noted by Saturday Review critic Hollis Alpert, Big Boy had "not at all the look of a standard Hollywood product, as it skips along, pausing to examine some of the odder and colorfully seamy aspects of New York. It has an improvisatory air, and touches of modish mockery, particularly popular with the very young and certain film critics."

Frequently vulgar and strenuously free-wheeling, replete with an extended scene in a Times Square dirty book store and many antic dashes through Manhattan streets, You're a Big Boy Now was a movie that took the notion of Fun City literally. Indeed, it was chosen, perhaps by Lindsay himself, to open the Festival of New York Films that the Office of the Mayor organized at the Regency Theater in April 1967.

"By selecting locations for their pleasing appearance and a delicate use of filters Davis manages to beautify Harlem as he photographs it; even the groupings of high-rise, low-income tenements, one of the most desolate sights in New York, are made pretty by the warm, pinkish tones the film lends them. The picture of Harlem that emerges is a spirited, joyful, and often adventurous place to live. But for black people only."—William Paul, Village Voice, August 27, 1970.

Howard Thompson characterized You're a Big Boy Now as "a magnetically exasperating comic strip of a movie." The same could be said of the Broadway actor-playwright Ossie Davis's rollicking and wildly uneven first feature Cotton Comes to Harlem, adapted from the sardonic crime novel by self-exiled African-American writer Chester Himes.

In somewhat the spirit Coppola exhibited three years before, Davis created a Fun City cartoon by staging all manner of outlandish events in actual Manhattan streets. But where Coppola celebrated New York as a city of youth, Davis more programmatically represented his hometown as a city of African Americans—with a few, clueless white cops, ineffectual Italian gangsters and dimwitted Jewish junk merchants in subsidiary roles. The mainly black cast was headed by dour Raymond St. Jacques and ironic Godfrey Cambridge, playing Harlem cops Coffin Ed Johnson and Gravedigger Jones, with Calvin Lockhart as their nemesis, a slick preacher running a Back-to-Africa scam. Although Lockhart, Cleavon Little, Judy Pace, and Redd Foxx all made memorable film debuts, the movie's real star is its location.

If Cotton Comes to Harlem is relentless in its satire of the O'Malley's bogus nationalist aspirations, it is because the movie (made in advance of Melvin Van Peebles's Sweet Sweetback's Baadassss Song, as well as Shaft and Superfly) was itself an expression of cultural nationalism. Save for one scene, Davis's film was shot during the spring of 1969 entirely in Harlem, much of it in the blocks around the Filmways Studio. Extras were recruited from local theater groups; scenes like the rally staged on the site of an abandoned gas station at 128th Street and Lexington Avenue were, in effect, neighborhood festivals. The set was protected both by the NYC Tactical Patrol Force and the local Black Citizens Patrol. The final title notes that the movie was "filmed with cooperation of the People of Harlem and the Mayor of New York."
Mabel Robinson's exotic dance atop a bale of cotton planted in the middle of the Apollo stage notwithstanding, Davis's set piece is an extensive car chase through Central Harlem to Riverside Drive and back—a slam-bang bit of choreography that would have had even more impact had the director saved it for his movie's third act. Released before the term "blaxploitation" was coined, Cotton Comes to Harlem was a hit, grossing over $15 million (somewhat more than both Shaft and Superfly) and inspiring a 1972 sequel, Come Back, Charleston Blue.

Sunday, August 11: DOCUMENTARY BONUS: THE 51ST STATE

Norman Mailer vs. Fun City (a.k.a. The Other Guys are the Joke). Directed by Dick Fontaine. 1970

Native son Norman Mailer orchestrated his own political happening in the spring of 1969, running for New York mayor in the Democratic primary with journalist Jimmy Breslin as his sidekick, seeking the nomination for President of the City Council. Frankly acknowledging New York's economic and ethnic schisms, as well as municipal corruption and the decline in services, these citizen politicians emphasized the city's unique status by advocating independence from Albany and arguing for the vesting of power to the neighborhoods.

As recorded by British filmmaker Dick Fontaine, who had previously documented Mailer at the October 1967 March on the Pentagon in Will the Real Norman Mailer Please Stand Up?, the two writers' free-wheeling and highly rhetorical campaign provides a flavorsome analog to contemporary Fun City caper films. Mailer had cast himself as a New York City police lieutenant in his 1968 feature Beyond the Law, but it is the irrepressible, Queens-inflected Breslin who seems like an avatar of the cops, pols, and municipal employees populating the New York movies of John Lindsay's second term.

Fontaine's locations are priceless and all sorts of local characters turn up—including underground filmmaker Barbara Rubin, hovering around in the first scene. The candidates' forays into Brooklyn have weird echoes of Bye Bye Braverman; the media frenzy looks forward to Dog Day Afternoon. The fictional version of the campaign would surely have been a fit subject for Sidney Lumet who, as one of the prominent guests at the notorious "radical chic" fundraiser that Leonard and Felicia Bernstein held for the Panther 21, was a likely Mailer supporter.

Sunday, August 11: TWO SIDES OF SIDNEY LUMET

Bye Bye Braverman. Produced and directed by Sidney Lumet. Written by Herbert Sargent, adapted from the novel, To An Early Grave by Wallace Markfield. Released by Warner Bros.-Seven Arts. Opened at the Fine Arts Theater, February 21, 1968.

Serpico. Directed by Sidney Lumet. Written by Waldo Salt and Norman Wexler, adapted from the book by Peter Maas. Produced by Martin Bregman. A Dino De Laurentiis film, distributed by Paramount. Opened at the Baronet and the Forum Theaters, December 5, 1973.

"Bye Bye Braverman is a strange comedy of Jewish New York filmed here by director Sidney Lumet. It had perhaps better stay here—few people outside the city limits will appreciate it."—Kathleen Carroll, Daily News, February 21, 1968.

No director was more associated with Fun City than Sidney Lumet who, even before he began shooting Bye Bye Braverman in the spring of 1967 had used New York locations in ten of his twelve previous features—and had been frustrated by the bureaucratic regulations that kept him from using even more locations two years before in The Pawnbroker.

Bye Bye Braverman, Lumet told New York Times reporter A.H. Weiler was "the most personal picture" of his career. The director drew on his boyhood memories and Yiddish theater roots for this dark, extremely ethnic comedy adapted from Brooklyn novelist Wallace Markfield's wise-guy satire of Partisan Review-type New York intellectuals. Informed of a colleagues untimely death, the four principles (New York-born and/or based actors George Segal, Jack Warden, Joseph Wiseman, and Sorrel Brooks) go careening through Brooklyn in search of his funeral.

Mixing off-handed references to political issues and aesthetic debates with the attention-grabbing bits of business that Jewish comedians called "shtick," Braverman stops in its tracks for solos by two stand-ups, Godfrey Cambridge as a Black-Jewish cab driver and Alan King as a rabbi delivering a funeral oration. But, anticipating the Cambridge vehicle Cotton Comes to Harlem, Braverman gives ethnic assertion a documentary backdrop. The four principles are introduced in terms of their Manhattan neighborhoods, while their odyssey takes them through Flatbush and Crown Heights to an Eastern Parkway funeral parlor fashioned from a church that had once been a synagogue across Rochester Avenue from Lumet's childhood apartment.

"Scouting locations for this film was a cinch," Lumet told Weiler. "I know all these neighborhoods like the back of my hand. It must have taken me about five minutes to scout the whole works."

"Serpico emerges on the screen as a latter day Dreyfuss slowly drowning in a municipal Watergate… [Still] this is New York after all, and is there anyone who grew up on these grimy streets who can truly profess shock at the sight of police corruption?"—Andrew Sarris, Village Voice, December 13, 1973.

"A galvanizing and disquieting film," as Vincent Canby called it in The New York Times, Serpico was Sidney Lumet's rejoinder to the heroic, dirty cop films of the early 1970s. Released during the final month of John Lindsay's second term, Serpico took as its protagonist an obsessed, inexplicably incorruptible real-life New York City police officer who risks his life to change the system—with mixed results.

Fresh from his star-making role in The Godfather, Al Pacino played the whistle-blowing "hippie" detective Frank Serpico, catalyst and, along with David Durk (renamed Bob Blair and played by Tony Roberts in the movie), co-hero of the Knapp Commission Hearings into police corruption that convulsed the city in late 1970 and precipitated the biggest shake-up in the history of the New York Police Department. As Serpico is reassigned throughout the city, Lumet uses dingy precinct houses and run-down neighborhoods in three boroughs. Working mainly in Williamsburg and the East Bronx, the non-conformist hero chooses to live in the Village on Minetta Lane, just next door to the Fat Black Pussycat theater. The city appears all but irredeemable, making Frank Serpico seem all the more perversely unrealistic.

Canby called Serpico the "Saint Francis of Cops" and "a driven character of Dostoyevskian proportions." Although, as Andrew Sarris observed, "the movie is quite frank in assigning responsibility for Serpico's martyrdom all the way up to Mayor Lindsay's office," Serpico puts forth a protagonist who, however street-smart, is no less quixotic as the outgoing mayor.
---

LATEST ARTICLES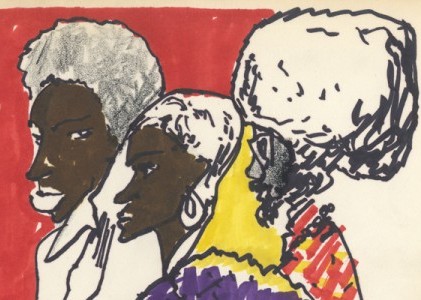 THE AUTHOR
J. Hoberman is a renowned film critic whose latest book, Film After Film: What Became of 21st Century Cinema, was published by Verso. He was the senior film critic at the Village Voice, and he now writes for numerous publications including Artinfo.net and The Tablet. His writing is aggregated at his website, j-hoberman.com.
More articles by
J. Hoberman