Extra Credit, Part 5
The Wire
: A close analysis of the Season 5 title sequence
Making The Wire, Museum of the Moving Image, July 30, 2008
This video essay is part of a series on The Wire. Also on Moving Image Source: Dana Polan on the show's Balzacian universe, Nelson George on its complex portrayal of black America, David Schwartz on its view of life as a chess game, and video essays on the Season 1, Season 2, Season 3, and Season 4 credits by Andrew Dignan, Kevin B. Lee, and Matt Zoller Seitz.

For its fifth and final season, The Wire returned with a storyline that made the bold move of criticizing the media—in this instance, print journalism as it stands in the year 2008. Simon's main issue of contention appears to be the way the media, and by extension government figures and the public at large, allow themselves to be distracted by salaciousness and fluff journalism at the expense of issues which plague us every day. As a society, we seem to be consumed by macabre details and tabloid exploits—an epidemic that seems to extend into our entertainment choices as well.

The Wire never captured the attention of the public at large like network shows CSI and Law & Order. Season 5's credits sequence seems to acknowledge this disparity with Steve Earle's cover of "Way Down in the Hole." Employing a catchy electronic piano refrain, the song calls to mind the theme to Law & Order, as if to criticize how false the mantra "ripped from the headlines" really is.

As in the season itself, there's an even divide within the visuals between law enforcement, criminal activities, and the mechanics of publishing and distributing a newspaper. Journalism is its own form of surveillance, and the editing continuously draws connections to the middleground they share—for instance, panning up a surveillance tower, down a wiretap, and then along a newspaper feeder. The editing scheme of this season's sequence is very linear, often showing cause and effect simply through where the images are placed. This is best exemplified in a sequence showing the evolution of a news story through six shots, progressing McNulty's lie that began with the red ribbon into a phony wiretap, a falsified police report, a poorly researched story, an inferior newspaper, and ultimately into a product being peddled by the very transients who are theoretically in danger.

Season 5's credits sequence also possessed an awareness of the show's impending mortality. It brought back long-gone characters from seasons past, as if to show the ripple effect of the choices they made as well as to give viewers a sense of closure. The final credits sequence also gives us glimpses from the show's previous assignments. It even recontextualizes shots we've seen dozens of times before, such as the image of two kids from the pit busting a security camera, which is now seen in full color after years of being seen in black-and-white. We're being encouraged to look at everything that's to come with fresh eyes, as well to remember that on The Wire, it's all connected. —A.D.

LATEST ARTICLES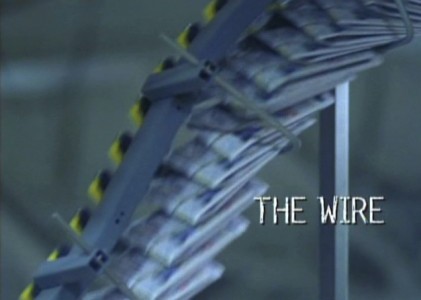 THE AUTHORS
Andrew Dignan is a film producer and occasional blogger living in Los Angeles. His last film, the Sundance selection Steel City, is now on DVD and he is currently in pre-production on two features and a short scheduled to shoot this fall.
More articles by
Andrew Dignan
Kevin B. Lee is editor of the Keyframe journal at Fandor and programming executive at dGenerate Films.
More articles by
Kevin B. Lee
Matt Zoller Seitz is a writer and filmmaker whose debut feature, the romantic comedy Home, is available through Netflix and Amazon. His writing on film and television has appeared in The New York Times, New York Press, and The Star Ledger, among other places. He is also the founder of The House Next Door, a movie and TV criticism website.
More articles by
Matt Zoller Seitz
Author's Website:
The House Next Door