All Things Shining, Pt 5
The films of Terrence Malick:
The Tree of Life
COMMENTS (3)
This was really insightful especially part 1. I'm only 21, and I see Tree of Life as a film that only gets better with time. On the surface in a micro way it is an accurate representation of how individuals recollect certain events in their life, and as we get older [closer to death] and learn to accept that this is how life works not necessarily a physical pre determined outcome, but a flow of all things.
jnyeango posted 10.10.12
Really have enjoyed this series (any chance of continuing it with Malick's next two features?) and especially loved The Tree of Life, 2011's best film and one of the best films of the past 10 years I'd say. I was curious of your interpretation of Jack's relationship with his mother; in my interpretation, I agree with you only to an extent, however, I place emphasis on the night-gown scene as its representation of Jack's first real "sin." The narration that surrounds that sequence pertains to the more religious aspects of the film, and less to his mother in my mind. However, I think you are right to equate the two insofar as the gown is a sort of reflection of the mother; but this is dealing with his sinning against her, not an obsession or infatuation with her. When he returns, he can hardly look at her, because he sees himself as unworthy to look at her any more. Jack loves his mother, but I do not believe it is in any romantic way; you mention her purity, and that is right on the ball and consistent with her representation at the end of the film as a sort of angel. To me, there's more to suggest that reading than does the more infatuated/romantic one I felt you saw. But of course, I agree with what you stated in the beginning, that we all take something different to the film (which is why, I think, it has been hotly criticized)
harrence posted 26.10.11
Wonderful job! This was, in my opinion, the best film of 2011. Your observation about the interweaving of religion and science was spot on and I think many religious people would benefit watching this film. It's unfortunate that was all you said about religion though, I would have tied the Book of Job, which Malik quotes at the beginning, in with the creation sequence since there is something of a "creation scene" in the book where God asks Job if he understands the universe (both Job and this scene happen in the context of questioning and pain). As well, I would have considered the fall of man and Genesis, considering the tree imagery and the themes of a loss of innocence I felt were everywhere. Again, very well done, it'll give me things to look out for the next time I watch it.
xnowimcoolx posted 26.10.11
LATEST ARTICLES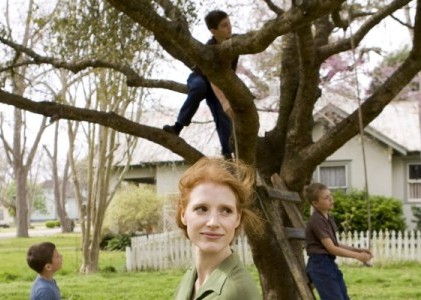 More
Photo Gallery:

All Things Shining, Pt 5
Video:

The Tree of Life, Pt 1
Video:

The Tree of Life, Pt 2
RELATED CALENDAR ENTRY
October 28, 2011–March 17, 2012
See It Big!
THE AUTHORS
Serena Bramble is a rookie film editor who is currently pursuing a bachelor's degree in Teledramatic Arts and Technology from Cal State Monterey Bay. In addition to editing, she also writes about movies on her blog Brief Encounters of the Cinematic Kind and contributes video essays to Press Play.
More articles by
Serena Bramble
Author's Website:
Press Play
Matt Zoller Seitz is a writer and filmmaker whose debut feature, the romantic comedy Home, is available through Netflix and Amazon. His writing on film and television has appeared in The New York Times, New York Press, and The Star Ledger, among other places. He is also the founder of The House Next Door, a movie and TV criticism website.
More articles by
Matt Zoller Seitz
Author's Website:
The House Next Door