All Things Shining, Pt 3
The films of Terrence Malick:
The Thin Red Line
After the release of his second film, Days of Heaven (1978), Terrence Malick disappeared from movie screens for two decades. There were rumors that he was attached to various projects as a writer or director (including Che, an epic that Steven Soderbergh eventually directed), but aside from that, there was nary a peep—until 1998, when he re-emerged with The Thin Red Line. The movie was adapted from James Jones's World War II novel about Guadalcanal, the middle part of a trilogy that includes From Here to Eternity and Whistle. But Malick's version ultimately owed less to Jones than to Malick, as well as to the Transcendentalist philosophy and environmental consciousness that had become Malick's signature.
The film opens and closes with voice-over from a minor character—a soldier who goes AWOL from service to live among Melanisian natives until he's caught and forced to return to the front lines. But the film doesn't actually have a main character; instead it passes in and out of the consciousness of various enlisted men and officers, eavesdropping on their fears, dreams, and memories; these are expressed in yearning, unabashedly literary language that seems less a representation of actual thoughts than an admission that language fails to capture the depth of human feeling and the breadth of experience. Intense moments of combat or personal drama are interrupted by cutaways to animals, vegetation, and rolling ocean waves; more so even than Days of Heaven, The Thin Red Line insists that individual human experience is not central to anything but our our own perception, that it is in fact a tiny part of the totality of life on earth. Even war itself is diminished by being represented not as a force that opposes nature, but as an especially rancorous and deluded part of nature.
This video essay on The Thin Red Line is part of a series that also includes pieces on Badlands, Days of Heaven, and The New World. It is produced in conjunction with the Museum of the Moving Image film series "The Films of Terrence Malick."

LATEST ARTICLES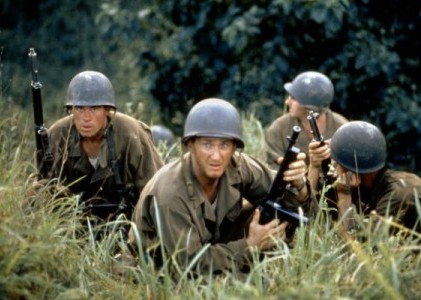 More
Photo Gallery:

All Things Shining, Pt 3
Video:

The Thin Red Line
THE AUTHOR
Matt Zoller Seitz is a writer and filmmaker whose debut feature, the romantic comedy Home, is available through Netflix and Amazon. His writing on film and television has appeared in The New York Times, New York Press, and The Star Ledger, among other places. He is also the founder of The House Next Door, a movie and TV criticism website.
More articles by
Matt Zoller Seitz
Author's Website:
The House Next Door