All Things Shining, Pt 3
The films of Terrence Malick:
The Thin Red Line
COMMENTS (3)
This film reminds me of Walt Whitman's "On the Beach at Night Alone," in which he writes, "A vast similitude interlocks all." Great video essay.
denvirms posted 14.05.11
@redonefifty: You're right about that! As it turns out, it's actually voice-over by a character named Pvt. Train, who barely has a presence in the movie but who is vocally a ringer for Jim Caviezel I have seen "The Thin Red Line" several times and I never would have noticed this if you and one other viewer hadn't written to tell me about it...Apparently it's something that's not apparent unless you read the script or have turned on closed-captioning while watching the film! Martin Scorsese, in praising the movie, once told Roger Ebert, "You could come in the middle of ['The Thin Red Line'], you can watch it. It's almost like an endless picture. It has no beginning and no end. People say, 'Well, sometimes I can't tell whose voiceover it is.' It doesn't matter. It's everybody's voiceover."
Matthew Seitz posted 14.05.11
Matt, first off i have to say how much your essays an salon, and here mean to me. Basically your insight and understanding, all-encompassing knowledge and love of movies rejuvenated my own love. So i thank you. Just a tiny correction, but the main portion of narration is given in fact by the actor at the end of the film stating how he is a changed man. Couldnt find the character name but hope you can. i first realized it somehow while reading the original screenplay(which is great indicator of the more conventional yet charecter-oriented film that could have been). I don't remember how i found this out but it might have been a line of dialogue then looking up the cast list. Just little known thing for you to know. I'm not completely convinced of Malick's greatness(he frustrates and fascinates me) But this so far is a fine series
redonefifty posted 13.05.11
LATEST ARTICLES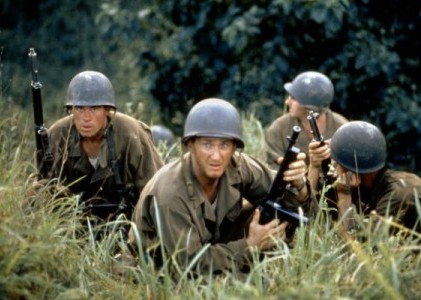 More
Photo Gallery:

All Things Shining, Pt 3
Video:

The Thin Red Line
THE AUTHOR
Matt Zoller Seitz is a writer and filmmaker whose debut feature, the romantic comedy Home, is available through Netflix and Amazon. His writing on film and television has appeared in The New York Times, New York Press, and The Star Ledger, among other places. He is also the founder of The House Next Door, a movie and TV criticism website.
More articles by
Matt Zoller Seitz
Author's Website:
The House Next Door