There's Something About Ben
The showbiz satires and family psychodramas of Ben Stiller
This essay was written for the journal for the Museum of the Moving Image's 24th annual gala Salute, which took place on Wednesday, November 12, 2008 at Cipriani 42nd Street, New York.

It has often been said that show business is in Ben Stiller's genes. If that's true, then so is a healthy—and seemingly neurotic—disdain for Hollywood glitz. Indeed, the 42-year-old star's profound and playful understanding of the way that movies and TV shows can be both alluring and alienating is at the heart of his prolific body of work.

The story begins in childhood. As a 10-year-old, the son of comedians Jerry Stiller and Anne Meara would spend Saturday afternoons in Riverside Park with his sister, Amy, making Super-8 parodies of movies like The Exorcist and The French Connection. As a young teenager, Ben and family would regularly watch SCTV, the cult-favorite comedy sketch show that brilliantly lampooned movies and TV shows.

Stiller's first two quasi-professional short films were spoofs. During the run of the 1986 Broadway production of John Guare's drama The House of Blue Leaves, in which he made an impressive stage debut, Stiller made a mockumentary starring cast member John Mahoney. This led to another parody, Stiller's 10-minute short The Hustler of Money, a takeoff of Scorsese's The Color of Money, in which Stiller introduced his now-famous impersonation of Tom Cruise.

Parody has been a critical through-line of Stiller's diverse career, from his own series, the short-lived but much-admired The Ben Stiller Show, through such feature-length put-ons as Zoolander (2001), Dodgeball (2004), and Tropic Thunder (2008).

So what is behind this constant impulse to satirize show business, to make fun of the industry that provides Stiller's livelihood? The answer, beyond the surface of the sheer entertainment value of his movies (and Stiller's films have earned nearly two billion box-office dollars) is that he sees show business as the perfect arena in which to explore, in amplified form, many of the neuroses of modern life. In show business, such foibles as vanity, insecurity, pretension, ego inflation, and feelings of inadequacy are all on displayin heightened, occasionally ridiculous form. Our laughter at Stiller's characters usually comes along with a bracing dose of self-recognition.

This is because the public spectacle of show business becomes the ideal forum for an intimate exploration of the most basic psychodramas. Fittingly enough, in order to get material for a sketch on his MTV series, the first incarnation of The Ben Stiller Show (1992-93), Stiller brought a video camera to an actual family therapy session with his parents and sister, and mined the footage for comedy.

However, not all of Stiller's films are set in the world of show business. The spectacle of family life has also proven to be a rich subject. The most primal drama, the attempt to find one's identity by fitting into a family, is at the heart of some of his best films, including Flirting With Disaster (1996), a road movie where Stiller plays an adopted young New Yorker who wants to find his biological parents before naming his newborn son; Meet the Parents (2000), where he is a neurotic Jew trying to marry into a staid WASP family ruled by a mysteriously uptight patriarch; and Night at the Museum (2006), where he is a divorced father trying to win the respect of his son despite his demeaning job as a night watchman. Night at the Museum is a family-friendly romp that is on its way to becoming a comic franchise with a sequel coming out in the spring. The convincing way that Stiller expresses the emotional underpinning of the father-son story gives the film surprising resonance.

Of course, to take Stiller's films too seriously may seem like overanalysis. After all, Stiller is generally considered to be the leader of the "Frat Pack," that group of raucous and incredibly successful comedians who take immaturity as their main subject. But the reason that Stiller stands out among the Frat Pack is that he brings remarkable intensity to his performances. He is, for one thing, a bundle of contradictions; who else could capture the sheer stupidity and delusion of a character like the vacuous supermodel Derek Zoolander or the moronic thug White Goodman in Dodgeball with such keen intelligence? He can play a bumbling nebbish—as he did in his starmaking performance in There's Something About Mary (1998)—but he can also project magnetic good looks—as in the romantic comedy The Heartbreak Kid (2007). He can seem both knowing and clueless. And Stiller also has one of Hollywood's most transparent, readable faces. Like the finest film actors, he lets us see not just how his characters are behaving, but what they are thinking, what they are trying to hide. He never seems to be playing a caricature; he is always a fully dimensional, complex character. After all, had Stiller chosen, he could have been one of the finest theater actors of his generation. As the AWOL Ronnie Shaugnessy in The House of Blue Leaves, the 19-year-old actor commanded the stage like a young Al Pacino.

Stiller's talents are many; he has become one of the most versatile creative forces in Hollywood. As a director, he has made Reality Bites (1994), a deft, multilayered ensemble film that chronicles Generation X aimlessness; The Cable Guy (1996), a wickedly funny and incisive comedy with Jim Carrey as a lonely cable repairman who was raised on television and desperately wants a new friend; Zoolander, a hilarious sendup of fashion-industry pretension with Stiller giving a remarkably deep performance as the shallowest fashion model in history; and Tropic Thunder, which was the top box office film for several weeks this summer, a daring and politically incorrect satire of war movies that finds abundant humor in the chasm between the harsh, gritty reality of war and the cluelessness and self-absorption of big-time Hollywood filmmaking.

Yet big-time Hollywood filmmaking is also precisely where Stiller has quietly become such a major force, as a producer, director, writer, and star. Stiller's production company, Red Hour, is a major component of the newly realigned DreamWorks, and he is on a remarkable streak of hit films. He has been able to find success in Hollywood while also turning a mirror on it. He lets us laugh knowingly at show business, but he also reveals that show business is a reflection of both our dreams and our imperfections.

LATEST ARTICLES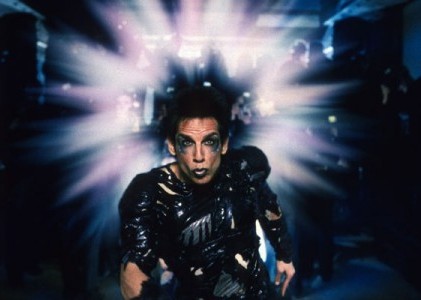 THE AUTHOR
David Schwartz is the Chief Curator at the Museum of the Moving Image. He is also a Visiting Assistant Professor in Cinema Studies at Purchase College.
More articles by
David Schwartz