The Time to Sing
A conversation with director, actor, DJ, and critic Serge Bozon
A director, actor, DJ, and critic, Serge Bozon is a real rarity: an intellectual man of pure instincts. His work is streamlined and precise while remaining mysterious and free-spirited. In conversation, Bozon catholically uses songs, a rich knowledge of film history, and keen structural analysis to illustrate his wide-ranging opinions. On the occasion of the "Free Radicals" show at the Film Society of Lincoln Center, a series of films made by his cohorts from the La Lettre du cinéma circle of critic-directors, Bozon spoke with us about the connections between music and film in his work, "Mac-mahonien" American movies, and the Aldrich influence on his upcoming film, among other topics.

When you introduced La France at your first screening in the U.S., you said the best way to introduce it was a song by The Groupies, "Primitive," because of the inverse relationship of the "primitive" to sophistication, in both the musical influences and the film references. Can you explain this relationship?
The Groupies were from New York, by the way. Here goes the chorus of this garage classic: "Primitive, that's how I live/Primitive, I take what you give/'Cuz I love and I live primitive."
Now, my anti-historicist idea:
Firstly, the music that inspired the songs in La France is the most sophisticated kind of pop, namely pop-sike. I won't explain here again what pop-sike is (just look at the beautiful "Would You Believe").
Now the way these pop-sike-inspired songs in La France are played, sung, and recorded is, on the contrary, very primitive: they're recorded live in the wilderness, the actors are not professional singers nor professional musicians. The instruments are not real electric instruments but homemade garbage acoustic instruments, etc.
Secondly, you always hear in music circles something about how not only are covers bad, but how the real stuff is always and only the original stuff. That the original is wild, intense, while the covers are white, secondhand sophisticated imitations. For example, why listen to white Bo Diddley wannabees like Downliner Sect when you can listen to the black master himself? I think this is wrong.
Take "Howlin' for My Baby" by Howlin' Wolf and its cover by the Syndicats. I prefer the cover 10 times over. Why? Because it is more primitive, and therefore wilder, and therefore crazier, and therefore more exciting. Let's be precise. The Syndicats were mid-'60s white English teenagers, and thus very mannered, not only in terms of clothes, haircuts, etc., but also in (musical) terms of their Joe Meek-like sound gadgets, feedbacks, rave-ups. So primitive does not imply unmannered, or naive, or simple, or direct, or straight. What is it exactly? It's a question of attitude, thus hard to explain. Some people in Brooklyn use the term "punk" for this. The best answer would be perhaps to look at this, and you'll get (between 2:30 and 3:18) my definition of primitiveness, plus the beginning of "Howlin' for My Baby" as an extra bonus.
Thirdly, in terms of film references, it's perhaps the same: instead of "putting a tiger in your tank," as the blues master wisely advises us to do, I tried to put a little Englishness in my U.S. war-movies references (Walsh, Fuller, etc.), not only in the Anglo-pop songs, but in the delicate, aristocratic way Pascal Greggory directs his troop, and the [mannered] way Axelle Ropert wrote the dialogue, and also the Alice in Wonderland kind of fantasy trip to nowhere that rises progressively during the movie. (Thus I did with war what the Syndicats did with blues.)
You're presenting Canyon Passage as part of your program at Anthology Film Archives on Saturday, April 16. What's the role of mule-riding troubadour Hoagy Carmichael and the songs that he sings in that film?
It's a secret.
Why do you think so many westerns and war films have songs (or often one song) that run through them? Are the lyrics another form of dialogue, a chorus or commentary, or simply a breather?
Because westerns and war movies are, from a narrative point of view, more free and, from a visual point of view, more countryside than, for example, thrillers and film noirs. Thus you always get natural breaks, elegiac or not, that just wait to be filled by songs, elegiac or not. Why are they more "free and countryside"? I think that the answer is simple. During the war movies I like, I mean the kind when you are not in the battlefields but with a small troop of soldiers in the woods, you have a much more autonomous and direct relation to nature than in a tank under the shouting of your sweaty superior. The songs thus arrive like the air the soldiers breathe, because, for example, the wind just started to whisper in the trees above their heads.
Once more, the same goes for music: in some recording studios, especially Fortune Records in Detroit, you just had this naturally haunted, free feeling, which gives you the impression that nonchalance is possible anywhere, even when you risk your life (in wartime) or when you cry (in lovetime)—a real aesthetic utopia. Speaking of the wind, the tears, and Fortune Records, just listen to this:
To be more concrete, you have to wait a lot in wars, which gives you the time to sing.
Why do uniforms, either actual uniforms or similarly dressed groups, appear prominently in your films?
I've made only three movies, plus a small TV film, thus it is pretentious for me to talk about "my movies."
What you see is what you get: uniforms are a visual form of collective belonging, and my movies are more about unitary groups than about individuals. To be more precise and balanced, the women are differentiated, but not the men, in Mods and La France. The need for "a sense of belonging," like the TV Personalities sung, goes from neurotic mods-fanaticism to war fraternity in a single swell male move.
No one in Tennessee's Partner [the other film in your Anthology presentation] has a name; they all have nicknames. What is significant about this?
Tennessee's Partner and Canyon Passage were championed by the Mac-mahoniens, a group of cinephiles who went to see films in the late '50s and early '60s at the Cinema Mac-Mahon in Paris and who supported the works of Fritz Lang, Raoul Walsh, Otto Preminger, and early Joseph Losey. In some of the films heralded by the Mac-mahoniens (the Lang Indian diptych, Escape to Burma, Rally 'Round the Flag, Boys!, The Tall Men, The Cardinal, etc.) there is such an abstract simplicity (which belongs only to the end of Hollywood) that it borders on oversimplification, like a comic book. Thus nicknames are more than enough. What's beautiful about this is that it depersonalizes the hero and thus gives the hero a non-psychological secretive form. The role of "Tennessee" seems to have been written for Clark Gable, but John Payne gives him a certain shadowiness, even though he plays the role of a big-time gambler and a seducer, and this obscurity makes his friendship to Ronald Reagan even stronger. Gable would not have needed a friend like that; his glory radiates on its own around him.
You've said that being a film critic is the best film school. Which articles that you've written or rules that you've uncovered have taught you the most as a filmmaker, or what do you find yourself thinking about most often? For instance, I often think of Hawks's line that to make a good film you should have a few good scenes and the rest of the time don't annoy anybody.
I won't talk about my papers, because this is pretentious. But I would say Hawks, too, as analyzed by Rohmer (his paper on The Big Sky). Or Hawks as a film critic himself. Let me explain. Certain directors designed their best films as critiques. Instead of writing a text, they made a film. Rio Bravo is a critique of High Noon. Howard Hawks said, "I don't think a good sheriff would panic and ask for help until his Quaker wife came to his rescue. As Wayne says when someone offers help, 'If they're good I'll take them. Otherwise I'll take care of it myself.' We did everything like that, the exact opposite of what displeased me in High Noon."
All things being relative, La France can be seen as a critique of A Very Long Engagement. In each case, the methodology is the same: taking the same point of departure (a sheriff needs support; a woman sets out to find her husband on the war front), but inversing the way help is expected (John Wayne's posse need more help than he does; the band of soldiers Sylvie Testud joins need more help than she does) until the newfound love flips around the hero at the very end, in turn giving the hero a new fragility. (The last words of Dean Martin to John Wayne are: "I'll take care of you." And at the end of La France, lying naked on the bed before her [long-sought husband] Guillaume Depardieu appears in the frame, Sylvie Testud seems for the first time completely weakened.)
Of your group of filmmaker/critics, the La lettre du cinéma group, which papers have been the most influential? (It's okay to include your own.)
I think that none has been influential, because we had few readers, but some were at least very influential on me, like:
"Actrices: le jeu des sept familles" (Axelle Ropert, n°2)
"Acteurs: le jeu des sept familles" (Axelle Ropert, n°6)
"Le doigt d'honneur" (Camille Nevers, n°8)
"L'heure creuse" (Axelle Ropert, n°20)
"Simiologie" (Pascale Bodet and Emmanuel Levaufre, n°22 and 23)
"Be yourself" (Pascale Bodet and Emmanuel Levaufre, n°30 and 31)
Also, all the "Movie-clubbing" chronicles of Axelle Ropert (fake reviews of fake parties between directors, producers, actors, critics...)
And some of the directors that we were the first and/or the only to champion are now championed by the others (Cahiers, etc.). For example, James L. Brooks, Wes Anderson, Hong Sang-soo.
You have described La France as influenced by both American and Russian war films, particularly low budget films made during the war. And, of the elements from these films that you've emulated, are you quoting or are you transposing them to a new context? What is the difference of your approach to old cinema references compared to someone like Quentin Tarantino or James Gray?
Gray, he's not bad, but too reasonable if not academic. He has a self-seriousness that I don't really like.

What I find interesting in Tarantino is his obsession with the vitality of Aldrich's late films (The Longest Yard, All the Marbles..., The Choirboys, etc.) These are less noble and secret than films heralded by the Mac-mahoniens (like Tennessee's Partner and Canyon Passage) but the protagonists in these late Aldrich films have an undeniable vulgar (in a good way) vitality, which comes from the way actors were directed. This I find interesting because I'm looking for such a vitality, Aldrich-style, for my next film (Tip Top) that I'll make this autumn.
These Aldrich films consist almost entirely of a chain of terrific non-classical actors' routines, one after the other. But the length of the shots, the linearity of the story concentrated in a short span of time, the realism of the sets (police station, hotel room, prison, etc.) and the type of misfit/lost protagonists establish these sequences in something that really exists, which give it a day-to-day reality. Hence, here the violence is jubilant, but not theoretical. In Tarantino, however, all of this jubilant violence and vulgar vitality belong to the realm of "reel to reel" speculation, incredibly complicated and exhausting to achieve. He needs to torture his connection to the story, the rapport with the actor, with the length, the dialogues, etc. to be left with, after 25 minutes of turning up the heat (for instance the scene at the farmers' or the scene in the cellar in Inglorious Basterds) what Aldrich obtains without any effort in two minutes.
The other deep connection with Tarantino is that, like him, the main characters of Tip Top are women who are forced into combat. But the difference is that, with him, the women are not motivated to act violently from a place of happiness, but are always brought to action out of vengeance (see Kill Bill 1, Kill Bill 2, Death Proof, IB). Therefore he is not into "action" films as much as "reaction" films. And his best film, Jackie Brown, is precisely the one that gets away from this type of violence that's purely out of vengeance. My dream is this: to make a film about women with a high sense of morality who want to, out of happiness, destroy everything. But I know that in the end it will perhaps have nothing to do with all these cinephile ambitions, which is therefore secondary. La France does not have much to do with what I first imagined. Perhaps I will fall back into something soft and discreet, that is: Tourneur will take over Aldrich... Let's say that I'm just trying to do something different, hence the importance of Aldrich this time around.
Have you decided yet what kind of music you will use in Tip Top?
Yes. No music!
In Mods and La France, there's rock music. L'amitié and my short films have nothing to do with rock music. Contrary to the former, there will be no rock music in Tip Top. Contrary to the latter, there will, however, be a connection to rock. What is the connection to the absence of music? When you get someone to listen to Gene Vincent and the Sunlights live in Brussels in 1963 who sings "Long Tall Sally," this person usually tells you that it makes her want to break everything. But she is happy. And she even asks for more. What are the happy things that make you want to destroy everything? This will be the question of Tip Top.
What comes first for you, the story or the music?
The chicken.
Thanks to Delphine Selles-Alvarez for help with translation.

LATEST ARTICLES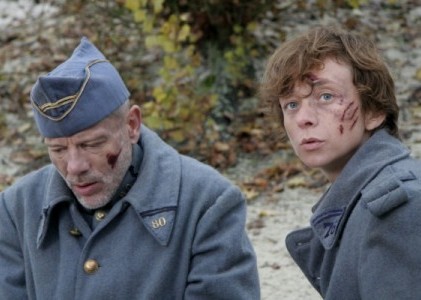 THE AUTHOR
Miriam Bale, a critic and film programmer, is the editor of Joan's Digest: A Film Quarterly. She is a regular contributor to The New York Times.
More articles by
Miriam Bale
Author's Website:
Joan's Digest: A Film Quarterly