The Master Touch
Orson Welles's baroque thriller—and final Hollywood movie—turns 50
With one or two exceptions, 1958 was not a great year for American movies. The Academy Awards were dominated by Gigi, which won a record-breaking nine Oscars. David Niven was named Best Actor for Separate Tables, defeating Tony Curtis and Sidney Poitier (The Defiant Ones), Spencer Tracy (The Old Man and the Sea), and Paul Newman (Cat on a Hot Tin Roof). Susan Hayward was Best Actress, for I Want to Live!, directed by Robert Wise. Unacknowledged by the Academy, Anthony Mann made his last western, Man of the West. And on the Universal lot, James Stewart starred opposite Kim Novak in Vertigo, which was panned by most critics at the time, though it earned nominations for art direction and sound.

Another Universal production, Touch of Evil was barely seen at all. Released in February on the bottom half of double bills and without press shows, it was judged an ignominious Hollywood return for Orson Welles after 17 years of exile in Europe, not least by Hollywood itself. In retrospect, of course, the film stands as Welles's final attempt to work within the studio system, an aborted reconciliation that spurred both parties to formalize their divorce.

A tremendously sleazy bordertown thriller about a corrupt American cop (Welles's Hank Quinlan) caught framing a murder suspect by an upstanding Mexican policeman (Charlton Heston as "Mike" Vargas), Touch of Evil was not the sort of thing that appealed to the tastes of the Academy, or indeed many of the critics, once they had paid to see it.

"The flashy interplay of queer character defeats itself in the end. Far from clear speech and pretentious lighting and photographic effects add to the confusion….Utterly incoherent and unpleasantly smelling of evil, the film will give most men, let alone women, the willies," warned the reviewer at Kine Weekly. In Reporter, Gerald Weales said it was "often laughably bad…pure Orson Welles and impure balderdash."

Such reviews seem bizarre in light of the film's critical rehabilitation over the years—championed by the Cahiers crowd, it developed a cult following over the 1960s and ranked 15th in the 2002 Sight & Sound critics' poll after its reemergence in a re-edited version in 1998 (included, along with the other two extant cuts, in Universal's new 50th-anniversary DVD set). Yet the bad notices do pick up on salient attributes in this very peculiar thriller—a whodunit that scarcely concerns itself with whodunit (in fact we never know for sure: we're informed of a confession in the last scene, but from what we've seen no jury north of Texas would convict him on that score). The real crime here—and this does come from the book—is the cop's frame-up. Quinlan, as Welles portrays him, is a McCarthy-like figure, operating outside the law he pretends to be upholding, browbeating politicians, and identifying "suspects" through slurs and innuendo. (Joe McCarthy died an alcoholic in May 1957.)

Welles wasn't above innuendo himself. With its powerful suggestion of gang rape, drug abuse, and lesbianism, Touch of Evil was a heady brew for 1958. And then there's the ethnic angle. According to Howard Thompson's mostly positive notice in The New York Times, Janet Leigh's experiences at the hands of "young punks in an isolated motel should make any viewer leery of border accommodations for a long time to come."

With a honeymooning mixed-racial couple failing to get past that first explosive kiss, Touch of Evil is structured on the principle of coitus interruptus (what they used to call a "delayed fuck movie"). It might almost have been designed to tease out unconscious racism, because if Quinlan is a bigot, Mexico looks like a den of iniquity. Thompson recognizes the film is staged as "wild, murky nightmare," but concludes this is "effect rather than substance."
Indeed, most North American and British critics chastised Welles for his baroque, expressionist style—the very same quality that left Godard et al. breathless. In every one of the film's incarnations that style involves several bravura crane and sequence shots (including the famous three-minute-plus opening shot), crowded wide-angle compositions, overlapping dialogue, night-for-night shooting, spectacularly seedy locations, and jarring tonal shifts between suspense and black comedy.
As is clearest in the 111-minute re-edit, Welles built the film on a series of binary oppositions: north and south of the border, night and day, husband and wife, modern and old, Quinlan and Vargas, good and evil—oppositions he muddies as the film goes on. On an aesthetic level, too, we find high style and low content; artifice (Welles's razzle-dazzle) and "realism" (location shooting, handheld camerawork, taboo-breaking subject matter).
But the most perplexing of these counterpoints may be the elusive discrepancy between melodrama and camp, not so much a borderline in this film as a blurry no-man's-land. As cinephiles we may frown on audiences' ironic laughter at this "classic," but it's not so cut and dried. In a deliberate and provocative strategy, Welles never quite gives us permission to laugh, but dares us not to.
It's surely no accident that the most overtly comical characters—Akim Tamiroff's tinpot little Caesar and Dennis Weaver's dementedly antsy "Night Man"—are also involved in the movie's stickiest (some would say sickest) scenes. Rape and murder are not to be taken lightly after all, nor betrayal, if that's what this film is all about. (If we don't know whether to laugh or cry, is that when we betray ourselves?)
This strain of camp grotesquerie encroaches on myriad aspects of the picture, certainly on Welles's larger-than-life performance as Quinlan and in the glaring presence of Marlene Dietrich as a Mexican fortune-teller. Take a look at the blind woman who sits impassively frame right as Vargas apologetically telephones his new wife. Universal cropped her out of the frame, but she was reinstated after Welles argued his case in the famous 58-page memo of December 1957, when he fought to minimize the damage wrought by the studio's editors (see Chronology, below). "It was meant to be peculiar," he insisted. The effect is deeply self-aware and quintessentially Wellesian in its cockeyed excess. His next picture, after all, turned out to be Kafka's The Trial, which he insisted was a comedy even if no one else was laughing.
Invited to speculate why Universal lost faith in Touch of Evil, Welles told Peter Bogdanovich (in This Is Orson Welles), "The picture rocked them in some funny way. They particularly loathed the black comedy—the kind people now like....They just didn't know what I was up to." In the same interview he claimed the studio cut 20 minutes of comedy featuring "[Akim] Tamiroff and his team—really far out black comedy—and it shocked and distressed them." If it ever existed, this footage is now almost certainly lost for good (it doesn't appear in the shooting script, but this was Welles's most improvisatory picture—especially in the Tamiroff and Weaver scenes).
Paul Schrader called Touch of Evil the epitaph for film noir, but we might as well say it's the epitaph for classical Hollywood and a launching pad for the nouvelle vague. Welles takes a routine potboiler and elevates it to a level of thematic complexity and style the genre can scarcely accommodate. The studio wanted a routine thriller, but Welles blew it up into something morally challenging, volatile, and subversive; a second-generation film that makes fun of its movie-ness even as it glories in it. We can see glints of Breathless and Shoot the Piano Player in this attitude to pulp, the story as a springboard for elaboration and play.
For Welles the experiment blew up in his face. Fond hopes of a multi-picture contract evaporated over the course of post-production and the Touch of Evil debacle marked the point of no return. He would never work in the studio system again. It was also, surely, the starting point for Psycho, but that's another story....
Chronology of Evil
December 1956
Touch of Evil came about almost by accident. Welles, fresh from playing a similar role in the B movie Man in the Shadow, was cast as the heavy by producer Albert Zugsmith.
January 1957
Charlton Heston suggested that Welles should also direct. He jumped at it. Welles wrote the first draft of a new screenplay in five days, a document that has precious little in common with the original source, the Whit Masterson novel Badge of Evil, or the Paul Monash screenplay that came out of it. Although it is set in southern California (San Diego) and one character is of Mexican descent—the DA's wife—the novel has none of the bordertown ethnic tension that infects every scene of the movie.
February-April 1957
Filming took place between February 18 and April 2, 1957, with Venice, California, transformed into "picturesque Los Robles."
May-July 1957
Editing progressed until early June, when original editor Virgil Vogel was replaced by Aaron Stell. At this point, as far as has been determined, Welles was asked to stay out of the cutting room, though he remained in close communication with Stell. A rough cut was screened at the end of July, against Welles's wishes, and studio head Ed Muhl appointed Ernest Nims, head of post-production, to recut it and make the narrative clearer. Elements from this July rough cut were excised by Nims and are likely lost forever.
August-November 1957
Nims (who had edited The Stranger in 1946 with equal disdain for Welles's designs) concentrated his efforts on the first five reels of the picture, ironing out Welles's parallel editing. Welles left him to it and when Muhl decreed there should be reshoots he was explicitly barred from writing the dialogue and directing the scenes. Instead, and despite the objections of Heston and Janet Leigh, they were handed to TV contract director Harry Keller (the reshoots took place over a couple of days in mid November).
December 1957
Heston's diaries reveal Welles's frustration and anxiety at this state of affairs, emotions that also break through the politic tone Welles adopted for his famous 58-page memo to Muhl of December 5, 1957, after he had been given the opportunity to see the latest Nims-Keller cut:
"In the light of the decision to deny me permission to direct these scenes, to write the dialogue for them or to collaborate in that writing, or indeed even to be present during your discussions of the matter, I must, of course, face the probability that I am the very last person whose opinion will be likely to carry any weight with you."
Welles went on to stress that the memo should be regarded "not as my convictions as to what my picture ought to be—but only what here strikes me as significantly mistaken in your picture. It's sufficiently your own by now, for me to be able to judge it on what I take to be your terms alone."
January 1958
The studio incorporated some of Welles's suggestions in this memo (perhaps 20 percent) in the 109-minute preview version but retained Keller's work and the editing of the early scenes that Welles objected to most strenuously. The reaction from the preview in January 1958 was sufficiently lukewarm to inspire a further round of cuts (including some of Keller's scenes) that brought the theatrical-release version down to 96 minutes.
The 109-minute preview version was rediscovered at UCLA in 1972 and erroneously touted as "the lost Welles cut."
1997-98
Producer Rick Schmidlin, consultant Jonathan Rosenbaum, and editor Walter Murch set about recutting Touch of Evil yet again, this time in accordance with Welles's memo—a task that involved stripping the opening titles from what was by then probably the most famous opening shot in film history, reconstituting Welles's contrapuntal editing, removing Keller's additions, and at least three dozen more changes large and (seemingly) small. This shadow-restoration runs 111 minutes, and was the only version previously released on DVD.
2008
The 50th Anniversary Edition DVD includes all three extant versions of the film, along with commentary tracks featuring Rick Schmidlin (solo and with Janet Leigh and Charlton Heston recorded in 1998), FX Feeney, and Jonathan Rosenbaum with James Naremore. The bonus material also includes two documentaries about the production of the film and the restoration, and reprints Welles's 58-page memo in full.

LATEST ARTICLES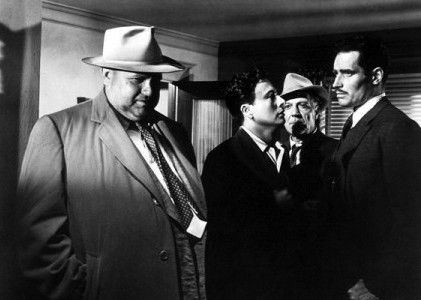 THE AUTHOR
Tom Charity is a film critic for CNN.com and Lovefilm.com, and a regular contributor to Sight & Sound, Cinema Scope, and numerous other publications. His books include John Cassavetes: Lifeworks; The Right Stuff (BFI Modern Classics) and The Rough Guide to Film.
More articles by
Tom Charity