The Honky Tonk Cycle
The forgotten history of country music in the movies
I'll bet you I'm gonna be a big star
might win an Oscar, you can't never tell
The movies gonna make me a big star
cause I can play the part so well
"Act Naturally," the song that catapulted Buck Owens to fame in 1963, was about a man so tortured and forlorn, he might as well be a method actor. In fact, several of Owens' country-music peers did cross over into Hollywood—Kris Kristofferson, Dolly Parton, Willie Nelson, Lyle Lovett, Dwight Yoakam—but so far, not one has been recognized for acting talent by the Academy of Motion Picture Arts and Sciences. A better strategy, if one wants Oscar gold, is to portray a country music singer. Jeff Bridges, in the role of tumbledown troubadour Bad Blake in Crazy Heart, is the seventh actor to be nominated for such a role, after Ronee Blakley, Sissy Spacek, Robert Duvall, Jessica Lange, Reese Witherspoon, and Joaquin Phoenix.
In Crazy Heart, Bad Blake is an indentured servant on a two-lane blacktop—he's on tour, in other words, feeding the odometer of his Chevy Suburban clunker, following a Southwestern itinerary booked for him by his manager, who has given him a gas card and very little cash. Blake is a 56-year-old man, and when he wants a drink, which is always, he must rely on the charity of fans who have no idea how down-and-out he is. His fans are also approaching AARP membership, mostly women of the Virginia Slims variety: faded neon roses in strapless tops, who sway and smile seductively as he performs in one chintzy venue after another, with a new pickup band every night. Crazy Heart is set in the present, but with its backdrop of Sun Belt motor inns and lacquered brick shopping centers, and conspicuous absence of cell phones and interstate freeways, it looks like a period film.
Unlike James Mangold's Walk The Line (2005), a biopic so antiseptic, rote, and factory-finished it could be about any musician at all, Crazy Heart is a throwback to an earlier, earthier kind of movie. It harks back not only to the Oscar-winning Tender Mercies (1983), but to the whole slew of country-music movies that erupted in Hollywood in the years between Robert Altman's Nashville (1975) and Karel Reisz's Sweet Dreams (1985). This cycle emerged after the first rock-and-roll compilation soundtracks (such as Easy Rider) but before the institution of music videos on MTV; this window of time was also country music's hippest period, hot on the heels of country-rock albums like the Flying Burrito Brothers' Gilded Palace of Sin, Lee Hazlewood's Cowboy in Sweden, and Willie Nelson's Shotgun Willie.
This group of films has no name. It includes independent releases, like Daryl Duke's Payday (1973), Eagle Pennell's The Whole Shootin' Match (1978), and James Szalapski's documentary Heartworn Highways (1981) as well as Hollywood comedies, dramas, and biopics catering to a range of audiences, with varying degrees of box-office success, among them Every Which Way But Loose (1978), Bronco Billy (1980), Urban Cowboy (1980), Coal Miner's Daughter (1980), Songwriter (1984), and Rhinestone (1984). Though all of these movies are filled with country music, not all are about musicians. The organizing motif is the country-western bar, a raucous and seedy setting, long immortalized in songs like Merle Haggard's "Swinging Doors." I'll call it the honky-tonk cycle.
The term honky-tonk originated in the environs of East Texas and Oklahoma. The first print appearance, according to the Oxford English Dictionary, was in the February 24, 1894 issue of The Daily Ardmoreite, of Ardmore, Oklahoma: "the honk-a-tonk last night was well attended by ball-heads, bachelors and leading citizens." As early as 1918, the term appeared in song titles, like the Tin Pan Alley number "Everything Is Hunky Dory Down in Honky Tonk Town," and was variously described in literature of the 1920s as "a dance resort...[full of] the rhythms of Jazz," an "underworld dance hall" and "a gaudy saloon with a backroom hangout." C.E. Mulford put it into the mouth of a reproving bartender in his 1930 novel Deputy Sheriff: "This place ain't no damn honkatonk, stranger." After the repeal of Prohibition, honky-tonk gained its country music connotations. As Nick Tosches defines it in his book Country, honky-tonk became the name for "the loud, small-group sound that developed in the redneck bars of east Texas oil boom towns: amplified guitars and lyrics of sex and whiskey."
The music was a product of Southern urbanization, of rural people (mostly white) transplanted to centers of industrial employment during the Depression and World War II. Lyrics about drinking, dancing and fast-living women became central to the canon, in songs like "Stompin' At the Honky-tonk," "I Ain't Goin' Honky-Tonkin' No More," and "Honky Tonk Mama." Webb Pierce, George Jones, and Johnny Paycheck popularized the sound after the war, maintaining its themes of sinful indulgence, guilt, and self-pity.
The honky-tonk mystique came late to the movies. Country stars and country music were not popular subjects in Hollywood for the first several decades of sound film. (Western movie music by groups like the Sons of the Pioneers, along with the careers of Gene Autry, Roy Rogers, and other singing cowboys are a rich, but separate, chapter of history.) Many of Nashville's recording stars made their screen debuts in low-budget films shot around Tennessee and Louisiana in the '60s. These were country cousins to Jailhouse Rock, independently produced and regionally distributed. The Man in Black's acting career (sidestepped in Walk The Line) began in 1961 with the no-budget thriller Five Minutes to Live/Door-to-Door Maniac, starring Cash as a singing kidnapper and a seven-year-old Ron Howard as his victim. Merle Haggard's first movie was Hillbillys [sic] in a Haunted House (1967) starring Basil Rathbone, John Carradine, and Lon Chaney Jr. These films, made for drive-in audiences, were not exactly genteel, but they avoided broaching subjects that might offend Christian audiences, so any references to drinking were limited to hokey jokes about "Grandpa's mountain dew."
In the record industry, however, country had become increasingly chic throughout the 1960s. Ray Charles kicked off a pop-to-country crossover trend with his album Modern Sounds in Country and Western Music in 1962. Three years later, Ringo covered the aforementioned hit "Act Naturally" on The Beatles' Help!. After that, the Byrds released Sweetheart of the Rodeo, Dylan put out Nashville Skyline, and piano-rocker Jerry Lee Lewis made a comeback with the hardcore honky-tonk album Another Place, Another Time. In 1972, Jerry Jeff Walker and Willie Nelson moved to Austin, where radio station KOKE coined the term "progressive country" to describe the local scene. In 1975, Nelson's concept album Red Headed Stranger crossed over into Billboard's pop charts, and was followed by the even more successful RCA Victor release Wanted! The Outlaws, a package of old recordings by Nelson, Waylon Jennings, Jessi Colter, and Tompall Glaser.
One of the first major movies with a country music soundtrack was Bonnie and Clyde, featuring "period" bluegrass by Flatt and Scruggs. Throughout the late '60s and early '70s, following the examples of Blackboard Jungle and Scorpio Rising, young and old auteurs experimented with film music, replacing the "through-composed" score of the classical Hollywood soundtrack with compilations of pop songs. Before Scorsese put the Ronettes and Johnny Ace in Mean Streets, Bob Rafelson put Tammy Wynette in Five Easy Pieces (1970) and Peter Bogdanovich dove into the Hank Williams catalogue for The Last Picture Show (1971). The opening credit sequence of John Huston's Fat City (1972) is a sunlit montage to Kris Kristofferson's "Help Me Make It Through The Night.". Fat City was also one of the earliest movies to depict barflies nodding off to the strains of pedal steel.
In 1973, the Canadian director Daryl Duke set the standard for country music movies in Payday. Rip Torn stars as the whiskey-bent-and-hellbound singer Maury Dann, such a roaring bastard that Waylon Jennings insisted he was the inspiration for the character. More likely, the film is modeled on the mythic mystery of Hank Williams' death—a chain of sleazy scenarios building to catastrophe. Maury is a monster, but no more so than all the leeches whose jobs depend on him. Payday is not a moral tale, but a satire about organized crime in the Bible Belt, about the "old rule" of Nashville that says all singers must start by paying their dues. Maury and his handlers are giving it up through the nose in payola and bribes to the cops. For all the knife-fighting, pill-popping, and backseat sex, the most chilling moments show Maury inhabiting his folksy star persona, nodding and grinning at the audience. In the opening sequence, he's performing in a small bar on a fuschia-lit stage. His fans are women of all ages, puffing on cigarettes and tapping their toes to his song, "She's Only A Country Girl," penned by Shel Siverstein. As his salty girlfriend glares on, Maury winks and smiles at two young, starstruck beauties sitting in different parts of the room; he'll find time to sleep with all three of them in the next 24 hours. (Altman imitated this sequence in Nashville, with Keith Carradine singing to the the triangle of Geraldine Chaplin, Lily Tomlin, and Cristina Raines.)
Unlike the estrogen den pictured at the beginning of Payday, the honky-tonks in Clint Eastwood's Western comedies are a working man's retreat, zesty '70s updates of the old-West swinging-door saloon. In Every Which Way But Loose (directed by James Fargo) and its sequel Any Which Way You Can (Buddy van Horn), Sandra Locke plays a no-good chanteuse, performing on bills with actual recording artists Charlie Rich, Mel Tillis, and Fats Domino. Eastwood stars as Philo Beddoe, a truck driver and bare-knuckles fighter who befriends the now infamous orangutan Clyde. These two films have been ignored even by many Eastwood apologists, but they deserve a second chance. Indeed primates are silly, but these are comedies after all, and compared to the bulk of today's blockbuster comedies, they look downright classy. (They are friendlier to women audiences than Ace Ventura, Austin Powers, or any of the other fart-and-boner franchises of the past two decades.)
Eastwood has a gift for deadpan comedy and a love of music. In Bronco Billy, released in between the two Clyde flims, Eastwood hired Snuff Garrett, the record producer who had supervised the best-selling soundtrack for Every Which Way, to oversee the music. Garrett orchestrated a duet between Eastwood and Merle Haggard, "Bar Room Buddies," a celebration of honky-tonking (along with a similar duet for Eastwood and Ray Charles for Any Which Way You Can, the gleeful "Beers to You"). Locke also co-stars in Bronco Billy, as a bitchy heiress who finds herself mixed up with a band of carnies led by Eastwood in the title role. Here Clint further refined his comic persona as the leader of a wild west show. Though often dismissed as a "family film," Bronco Billy is Eastwood's dissertation on the tropes of the Western, the icons of "Americana," and the construction of identity in media culture. Ripe for reappraisal, the film also contains the quintessential honky-tonk scene. Clint and his posse are drinking at a bar where Merle Haggard is performing. In the course of a single song (the gorgeous "Misery and Gin," co-written by Garrett), Clint reinvents the honky-tonk as emotional inferno. The coworkers make a toast, then Locke launches into a monologue about her father's death; Clint advises her, "Go ahead, let the tears fall in that beer." They argue, and a moment later, they are dancing. Then a bar fight erupts, such a riot that Merle is forced to flee the stage. The atmosphere of sad music and flowing booze is so powerful that the director can skip over the normal expository process, quite believably condensing a spectrum of human passions—joy, anger, grief, sex, violence—into a few minutes.
The apotheosis of honky-tonk fever among American film critics is captured in the New York Times of June 11, 1980, where Janet Maslin's favorable review of Bronco Billy ran alongside Vincent Canby's exaltation of Urban Cowboy ("the most entertaining, most perceptive commercial American movie of the year to date.") Cowboy represents a third kind of honky-tonk movie: the bar as battleground for the war of the sexes. Inspired by the smashing success of Saturday Night Fever, the film stars John Travolta, once again leading us into a regional subculture of late-night athleticism, a world of young people working dead-end jobs and channeling their physical, emotional, and mental energies into contests at dance clubs. The centerpiece is Gilley's in Pasadena, Texas, "The World's Largest Honky Tonk" and cradle of the mechanical bull craze.
While Urban Cowboy boosted the market for Stetson hats and pearl snap buttons, the Two Step and the Cotton-Eyed Joe, its "adult contemporary" soundtrack of the Eagles and Kenny Rogers inspired a backlash, summed up by the title of the obscure and charming Hard Country (1981). Starring Kim Basinger, Daryl Hannah, and singer Tanya Tucker, this film also examined the lives of a young Texan couple who toil in miserable jobs and spend their free time in a giant honky-tonk. No mechanical bull here—these are "cosmic cowboys" (a phrase coined by Michael Martin Murphey, whose songs fill the soundtrack), a brand of hard-partying rural groovers. They're not necessarily "progressive country," but they prefer Waylon to Kenny Rogers. Hard Country is a kitschy, low-budget affair, waffling between slapstick and melodrama. The cinematography is absurdly baroque—almost every scene contains zooming, deep-focus compositions and shots framed by windows, doors, and countertops. The set dressing looks like Dario Argento's idea of Texas. But in fact the film has a good sense of intended humor and much to say about the struggle for upward mobility and the crushing boredom of small-town life. It's a story about getting the hell out of Texas, more akin in its themes to The Last Picture Show than Urban Cowboy.
The high water mark for country music biopics is Michael Apted's Coal Miner's Daughter (1980), adapted from Loretta Lynn's bestselling autobiography. No mere impersonation, Sissy Spacek's incarnation of Miss Loretta—in her face and especially her voice—verges on the uncanny. A redheaded Tommy Lee Jones plays Doolittle, Loretta's husband-to-be, who returns to his hometown of Van Lear, Kentucky after a tour of duty overseas, determined to escape a life of claustrophobia and poverty. "There's a whole damn world out there. I don't intend to spend my life down in a coal mine," he tells Loretta, and endeavors to transform the constantly pregnant Loretta into a star. The success of her first single, "Honky-Tonk Girl," elevates her from rough roadhouse gigs to her debut on the Grand Ole Opry, and she transforms her style from hard country to countrypolitan pop. Spacek won an Oscar for this role. In 1983, Robert Duvall got Best Actor for Tender Mercies, directed by Australian Bruce Beresford and based on a screenplay by Horton Foote. Mercies stars Robert Duvall as Mac Sledge, a once-successful country singer who lands in the middle of nowhere on a bender and stays there, marrying a young mother (Tess Harper) who owns a gas station. He quits drinking and quits music, until he is spotted and mildly stalked by an aspiring country singer in his early twenties who convinces him to start songwriting again. (Duvall wrote two of the songs he performs in the film.)
Two Willie Nelson vehicles of note also rolled into theaters in the early '80s. Jerry Schatzberg's Honeysuckle Rose (1980), the origin of the famous song "On The Road Again," is a beautiful Texas travelogue and concert film (the redheaded gypsy is seen singing for a good half of its two-hour runtime). Set in a variety of venues from small bars to large arenas, the film represents the kind of touring bliss, with a bus full of friends and lovers, that Bad Blake might have enjoyed as a younger man. A film with wider appeal for those less interested in the Lone Star State is Alan Rudolph's 1984 Songwriter, co-starring Kristofferson and Torn. If Payday is a dark satire about the crooked underbelly of the music industry, Songwriter is a buddy comedy about the same. In a partly autobiographical role, Willie (who toiled as a songwriter in Nashville early in his career, penning "Crazy," "Funny How Time Slips Away," and dozens of other songs made famous by other people) stars as Doc, a financially and creatively frustrated composer and musician. Many times divorced, humbled by age, exhausted by touring, and sick of drinking, he takes a break from writing to manage a star named Blackie Buck (Kristofferson). Torn plays a nefarious, meth-gobbling promoter who eventually joins forces with Blackie and Doc to defeat an even more nefarious music publisher. Pauline Kael wrote a love letter to Songwriter in The New Yorker, doting on the the trio of gravel-throated goats (calling Nelson a "wild, frisky old pirate," Kristofferson a "chesty cavalier," and Torn a "speedier W.C. Fields") and delighting in their "three sets of beer-soaked whiskers lined up at a honky-tonk bar."
Songwriter may be the best movie ever made about country music. Rhinestone, also from 1984, may be the worst. Dolly Parton, working in the house band of a midtown Manhattan "cowboy bar," makes a bet with her boss that she can groom any human being into a country singer. Before she knows it, she's back home in Kentucky teaching Sylvester Stallone how to mosey bow-legged across a porch while ol' Grandpa sits drooling corn liquor on his overalls. (Believe me: The Best Little Whorehouse in Texas is Dolly's magnum opus. Rhinestone is her darkest hour.) The market for country-western movies was finally exhausted in 1985, after Jessica Lange got an Oscar nomination for lip-syncing to Patsy Cline in the dull, soap-operatic Sweet Dreams.
Country music movies all but disappeared from mainstream cinema that year. This was due in large part to the burgeoning empire of cable television. Two satellite networks, Country Music Television (CMT) and The Nashville Network (TNN), launched their "down-home" programming in 1983. In accordance with the business model of cable TV, these channels attracted advertisers by positioning country music as a specialized product for a niche audience. CMT targeted "family values" viewers and endeavored to teach them line-dancing. While a few of Nashville's "New Country" artists had talent (Randy Travis, George Strait), most were gussied-up soft rockers like Sly Stone in his Stetson; critics referred to Garth Brooks, Clint Black, and Alan Jackson as "hat acts." In 1991, Billboard magazine adopted a new technology for tracking CD sales at retail chains through a barcoding system called Soundscan. For the first time, record companies had reliable market data on their demographics. They tailored their releases to suit the tastes of suburban mall shoppers. Today's artists who perform in the traditional honky-tonk style, like the Texas-based James Hand and Dale Watson, fall under the rubric of "alternative country."
Hollywood had little interest in New Country. In the '90s, only a few films touched on the subject of honky-tonk: the George Strait vehicle Pure Country (1992) and Bogdanovich's The Thing Called Love (1993). The Strait film, which enjoyed box office success, is an entertaining "king in disguise" fairytale about a disillusioned arena-packer who wants to go back to his honky-tonk days. Bogdanovich's movie, starring River Phoenix in his penultimate role (standing on top of a skyscraper and shouting, "Look out Music City, cause here I am and I ain't never leavin'!") and a not-yet-famous Sandra Bullock (traipsing around Nashville in footy pajamas),, is just cringe-inducing. Following these two blips on the screen, very few mainstream country-music movies of any note were released until Walk The Line.
Crazy Heart has a few direct links to the honky-tonk cycle. The first is Robert Duvall, who plays Bad Blake's craggy old mentor, Wayne. A quiet counterpoint to Bridges, Duvall also seems to be inhabiting an older version of his character from Tender Mercies. Like Mercies, Crazy Heart depicts a chain of four intergenerational pairs: older man and younger woman; stepdad and stepson; estranged father and child; old musician and young disciple. The emphasis on mentoring was also a factor in the production of the film: Duvall took on Scott Cooper, a first-time writer, director, and producer, as his protégé, agreeing to anchor the project after Cooper showed him the screenplay. Duvall was the magnet that attracted Bridges, Maggie Gyllenhaal, and Colin Farrell. The second connection is composer Stephen Bruton, who co-wrote several songs for both Crazy Heart and Songwriter. Bruton, who died last year, was a session guitarist, record producer, and solo artist who toured throughout the 1970s with Kristofferson. His industry experience is largely responsible for the musical authenticity of Crazy Heart. Bad Blake's style is true to the contemporary sound of the progressive country singers who survived the 70s, like Kristofferson, Guy Clark and the Flatlanders.
Oddly enough, Crazy Heart was funded partly by CMT, one of the major factors of the demise of the honky-tonk film. Throughout the 1990s, the cable network changed hands in several conglomerate mergers, and was eventually acquired by Viacom, which folded it into its MTV Networks division. CMT Films, which also produced the 2008 movie Beer for My Horses (a feature-length adaptation of Toby Keith and Willie Nelson's hit single of the same title) poured $7 million into Crazy Heart, helping to secure T. Bone Burnett as the music supervisor. The plan was to keep Crazy Heart under the Viacom umbrella and release the film through Paramount Vantage. When Vantage tanked, Viacom dropped Crazy Heart. The film lingered in distribution limbo until it was picked up by Fox Searchlight and reborn as the Cinderella of the Oscar season.

LATEST ARTICLES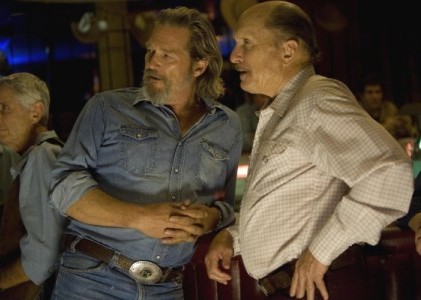 THE AUTHOR
Leah Churner is a film/video archivist and curator. She curated the series "Hollywood Musicals of the 1970s and 1980s" at Anthology Film Archives.
More articles by
Leah Churner