Rebel Forces
Restoring and revisiting the black independent film movement of Los Angeles
This article was originally posted on Moving Image Source on October 26, 2011 on the occasion of the opening of the L.A. Rebellion film series at UCLA. Museum of the Moving Image presents the series on the Los Angeles black independent film movement from February 2–24, 2013.

In the archives world, there is increasing discussion of activism. Acknowledging their powerful role as gatekeepers of history, preservationists are moving beyond the vault to seek out individuals with important resources before they disappear. This is especially true with the moving image, a discipline still haunted by the loss of untold thousands of films from the silent era. Thanks to a number of proactive individuals and the institutions supporting them, the cliché of Los Angeles as a place that destroys its own history may be a bit less apropos. This month the UCLA Film & Television Archive inaugurated "L.A. Rebellion: Creating a New Black Cinema," a multi-platform project that aims to restore the city's long overlooked black independent film movement to its rightful historic place. A screening series including over 50 films by 21 filmmakers, many of whom will appear in person, continues through December.
Under the auspices of Pacific Standard Time, the city-wide Getty initiative that centers on the work of artists in Los Angeles from 1945-1980, "L.A. Rebellion" not only tells a more complete story of who the Rebellion filmmakers are, but also expands our understanding of the intellectual, political, and social context in which they worked. Adjacent to the Billy Wilder Theater where the screenings take place is the Hammer Museum's exhibition Now Dig This! Art and Black Los Angeles 1960-1980, which features the work of a number of Rebellion friends, colleagues, and collaborators. The screening series also happens to overlap with a four-week program of Italian Neo-Realist classics, whose influence is palpable in a number of Rebellion films.
Most recently, the face of the movement has been Charles Burnett, whose quietly devastating portrayal of a working class African American family in Killer of Sheep (1977) was restored by the Archive and released for the first time four years ago. Other prominent names include Julie Dash, whose Sundance winner Daughters of the Dust (1991) charts the transformation of a Gullah family on the verge of their migration north, and Haile Gerima, whose landmark Bush Mama (1975) is a burning vision of female identity and political transformation, and who recently garnered awards, including the Special Jury Prize at Venice, for Teza (2008). As the Archive's project makes clear, these filmmakers were part of a dynamic and close-knit community.
The problem of how to tell a history is magnified within the context of a group whose work is already marginalized by the mainstream, and while its roster is not exhaustive, the Archive's aim of inclusivity is evident in the variety of shorts programs alongside features, the embrace of experimental and documentary work alongside fictional narrative, and the substantial number of films by women.
The Rebellion traces its lineage back to the Ethno-Communications department established in the late 1960s by Elyseo Taylor in UCLA's School of Theater, Film and Television. The school reached out to black, Latino, Asian, and Native American communities in the wake of the civil rights movement, and there was a jump in minority enrollment. In classes on third cinema, Italian Neo-Realism, and British documentary, Taylor and others reconfigured an understanding of cinema from entertainment to a powerful social and political tool. Encouraged to turn the camera on their own experiences, students were given exceptional freedom to pursue their personal interests. A number of early student projects reveal the roots of strongly formed political consciousness: Bernard Nicolas's Daydream Therapy (1977) and Gerima's Hour Glass (1971) set images of self-empowerment and rejection of white exploitation to rousing anthems of their time, performed by Nina Simone, Elaine Brown, and The Last Poets; in Alile Sharon Larkin's Your Children Come Back to You (1979), a young girl must choose between European culture and her African heritage. Though it lasted only a few years, Ethno-Communications had an impact that resonated at least through the 1980s, as progressive-minded professors and alumni continued to recruit, mentor, and support students of color.
Many have likened the filmmakers to a family—welcoming and universally supportive, if not always in accord. Zeinabu irene Davis approaches their story through a personal lens in her documentary Spirits of Rebellion (2011). A series of portraits that includes film excerpts, conversations, and interviews, Spirits (screened by the Archive as a work-in-progress) will be an essential introduction to the movement and many of its key figures. Of particular interest is Davis's interview with art historian Clyde Taylor, who conceived the "Rebellion" moniker in 1986, not without controversy. Filmmaker Pierre Désir explains that some disliked the implication that they were reactive—against Hollywood, against Blaxploitation—rather than deliberate and originary in their vision.
The urgency of the movement's questions about the definition of a black cinema was as much about looking inward as outward. The search for self identity and personal orientation within a community is exemplified in the work of Barbara McCullough. Her 1979 film Water Ritual #1: An Urban Rite of Purification, is a little-seen classic of African American film studies. In it, a woman exists alone amid the ruins of a building, assembling objects in a circle to perform a sacrament. She disrobes and there is a soft incantation; stepping through the wreckage, she lowers to the ground and urinates on the exposed foundation. Shot in black and white 16mm and accompanied by a hypnotic jazz soundtrack, the film's intimacy is transcended by its social dimension: a longing for connection to the ancestors; an autonomous female body, set into relief against a location resembling Watts after the uprising.
"You have to go back and retreat, and find out who you are before you can contribute to society," said McCullough. "Because if you don't know who you are, then how can you make an impact?" Healing and catharsis were relevant themes within the city's black community. "Even though the Watts Rebellion was in 1965, it still was part of our personal heritage, our grounding," said Senga Nengudi, an artist and friend who worked closely with McCullough. "The issue of 'phoenix rising from the ashes,' taking this thing that was horrific and allowing it to jettison us into another way of thinking." (Four years later, on the UCLA campus, Black Panthers Bunchy Carter and John Huggins had been murdered by members of the rival US Organization.) According to McCullough, who studied with Shirley Clarke and was inspired by the nonlinear experimentation of Jonas Mekas and Maya Deren, the film's poetic resonance was lost on most, and it was even labeled soft porn.
Her hour-long video Shopping Bag Spirits and Freeway Fetishes: Reflections on Ritual Space (1980), which borrows its name in part from a piece by Nengudi, is McCullough's effort to understand herself through the lens of her community. In the wake of the negative reception to Water Ritual, she approaches a series of visual artists, poets, and musicians, to ask what ritual means to them and their artistic practices. And this time she leaves little room for misinterpretation. Her on-camera introduction states, "I can only say that for me ritual is a symbolic action that I've dealt with in terms of my own internal state," and continues, "So the piece that you're about to see [...] is simply my exploration into why other artists have an affinity for ritual in their work."
Her camera moves from abandoned lots to living rooms and studios, capturing ephemeral sculptures, performances, and impromptu conversation. In the process, she shines light on the creative landscape of south Los Angeles, in all its complexity and richness. The piece is the testament of a personal journey as well as an invaluable document of a particular time and place, and McCullough's ultimate message resonates with the empowered, resourceful, community-oriented foundation of all the Rebellion filmmakers. "You don't necessarily need to go outside of your environment to seek information," she explained. "If there are people in your environment who have a point of view, then maybe that's what you need to tap into."
McCullough's interests are a throughline in numerous works in the UCLA series. In Dash's early short Four Women (1975), a dancer embodies the varied lives of the women in Nina Simone's eponymous song; Melvonna Ballenger's Rain (1978) and Larkin's A Different Image (1982) consider the articulation of female identity and empowerment. Davis's humorous and poetic Cycles (1989) engages ritual and the female body; her Trumpetistically, Clora Bryant (1989) honors the life and work of the great, but little-known jazz musician. Carroll Parrot Blue's Varnette's World: A Study of a Young Artist (1979) examines the life and work of the African American painter Varnette Honeywood; Don Amis's Festival of Mask (1982) documents the diverse community of artists involved in the Los Angeles Craft and Folk Art Museum's annual event.
In light of their achievements, it's inevitable to wonder what happened to the creative ferment of the Rebellion. Many struggled to continue making films, even after winning awards and international acclaim. Not only was the film industry largely unreceptive to their ideas, but funding for the arts during the Reagan era was also quickly drying up. "It wasn't so easy," said Billy Woodberry, whose Bless Their Little Hearts (1984) premieres in a newly restored, 35mm blow-up as part of the UCLA series. "Things didn't exactly work out like I planned. I had to figure out how to be involved at all in movies." For filmmakers without a financial safety net, as resourceful as they were, there was simply less freedom to create. For McCullough, the economic reality of supporting a family while finishing school required a stable income. She landed a job in visual effects, and began a long career working on dozens of Hollywood films, including Apollo 13, True Lies, and Ace Ventura. Now on an academic calendar as the chair of Visual Effects at the Savannah College of Art and Design, she is working to complete a documentary she began years ago on the musician Horace Tapscott.
It's important to note that the contributions of the Rebellion filmmakers have transcended production. Like Gerima, Blue, and Davis, Woodberry found work in academia, influencing a new generations of artists. Others invested their skills in the community through nonprofit work: Caldwell founded Kaos Network, an art center and media education non-profit in South Los Angeles; Gerima's Sankofa Café is a cultural center in Washington, D.C.; Larkin, who also teaches elementary school, co-founded the Black Filmmakers' Collective. Nicolas established the distribution company Inter Image Video. Jamaa Fanaka, who had the most mainstream sensibility of any in the Rebellion, is the only person known to have written, directed, produced, and secured theatrical distribution for three feature films made as a student, and his thesis film, Penitentiary (1979), was the top-grossing American independent film in 1980; he also spent years suing the Director's Guild of America for racist and sexist hiring practices.
But films are made to be seen. As the Archive works to expand the Rebellion's audience through touring programs, publications, and online resources, it should be clear that their legacy is still very much in progress. During a time when insults between Tyler Perry and Spike Lee qualify as critical discussion of black cinema, perhaps renewed interest can revive not only a wider, more thoughtful debate on film, form, and representation, but also inflect the mainstream with a greater understanding of the complexity and richness of African American culture and identity.
It's worth noting that the Archive's project also restores the memory of these filmmakers to UCLA itself, the institution that made their work possible by way of its active outreach, affordable tuition, and academic freedom. Today, with the California state budget in shambles and tuition rapidly on the rise, "L.A. Rebellion: Creating a New Black Cinema" is an added reminder of the vital role public education can play in the creative, intellectual, and political growth of a generation, a community, and an art form.
All films mentioned in this article except Teza are included in the UCLA screening series.

LATEST ARTICLES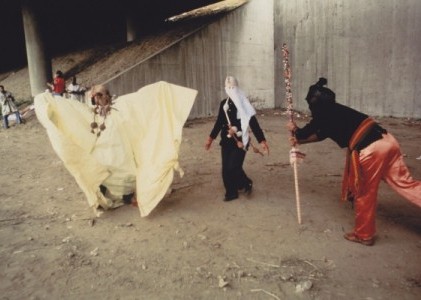 THE AUTHOR
Vera Brunner-Sung is a filmmaker, critic, and educator based in Los Angeles. Her films have screened internationally, at venues including the Torino Film Festival, San Francisco International Film Festival, Images Festival, and Onion City Experimental Film and Video Festival. Her writing has appeared in Senses of Cinema, Cinema Scope, and Art Lies.
More articles by
Vera Brunner-Sung