P. Ramlee Superstar
On the iconic actor-director-singer-composer of the Malay studio system
The full version of this essay appears in Asia Laughs! A Survey of Asian Comedy Films (Ed. Roger Garcia; Centro Espressioni Cinematografiche, Italy, 2011), published on the occasion of the Far East Film Festival Udine retrospective.
The Malay studio system produced over 300 films from the late 1940s to the early 1970s and boasted many stars and directors. But it's normally enough to refer to the whole era as "P. Ramlee's time." So when I wrote 120 Malay Movies (2010), my response to watching selected movies from that era in chronological order, I started with the first film he acted in, and ended with his last.
His ubiquity stemmed partly from his versatility: he was actor, director, singer, composer, and musician. He acted in over 60 movies and directed 34 of them, first with Shaw Brothers in Singapore and then Merdeka Studios in Malaysia. He also composed over 300 songs and probably, in his spare time, leapt over tall buildings in a single bound. It may sometimes seem that Malaysians cannot agree on anything, but everyone is united in their love for P. Ramlee.
During his peak—from his directorial debut in 1955 to his last film in Singapore in 1964—he could do almost no wrong. All 16 films he directed then are still cherished today. And so were the others that he acted in but did not direct—Hang Tuah (Phani Majumdar, 1956, about a mythical 15th-century feudal hero; Anakku Sazali (My Son Sazali, Phani Majumdar, 1956), in which he played both pampering father and nasty son; and Sergeant Hassan (Lamberto Avellana, 1958—although many say P. Ramlee was an uncredited co-director), his only movie to foreground World War Two.
He was born Teuku Zakaria Teuku Nyak Puteh in Penang, Malaya (as the country was then known), in 1929. The P of his stage name is from his father's name, Puteh—a naming convention he took from Indian popular culture. During World War Two, when the Japanese occupied Malaya and Singapore (which were separate but linked British protectorates), he was made to enlist in a Japanese naval college in Penang. It was there that he learned to speak some Japanese and play the violin, and also watched many Japanese movies.
He was discovered as a teenager when B.S. Rajhans (an Indian-born director who was responsible for all of the earliest Malay movies) was impressed by his singing at a talent contest. The song he sang, the plaintive romantic ode "Azizah," would later be featured in Penarik Beca (The Trishaw Peddler, 1955) and become one of his most famous:
The earliest Malay movies were mainly directed by expatriate or ethnic Indians; there were also a few Filipinos. In the last years of British rule, part of the proto-nationalist effort included getting more local Malays to helm movies. Although P. Ramlee was not the first Malay director, Penarik Beca became a phenomenon that truly made his name. He was also the star (he would act in all but one of his 34 films) and, as usual, did the music.
P. Ramlee cannily retained many of the elements from Indian popular cinema that were loved by Malay audiences. He was also influenced by what he had seen of Japanese cinema; this would be more obvious in his second film as director, Semerah Padi (The Village of Semerah Padi, 1956), with some sequences inspired by Rashomon. Despite its weightier theme (it was set in a village in Acheh [Aceh], Indonesia, and was about adultery and the imposition of Islamic law), it was also a huge hit. One of the famous scenes has P. Ramlee declaiming the azan after an adulterous, murderous couple had just been executed:
If I were to pick any P. Ramlee movie to watch again, it would almost certainly be a comedy. The dramas are sometimes overwrought, even preachy, as in the stark moral binary of Semerah Padi. (Although I would argue that it actually succeeds as an S&M experience with slasher-movie logic: we want the attractive main characters to have forbidden sex because we also want to see them punished.)
In the comedies, he truly soars. The first comedy he directed, Bujang Lapok (The Moldy Bachelors, 1957), saw him teaming up with fellow actors S. Shamsuddin and Aziz Sattar. All three actors used their real names and portrayed lovable losers who don't have much luck with women or money. My favorite film of his, Ali Baba Bujang Lapok (Ali Baba and the Moldy Bachelors, 1961), is a life-affirming comic masterpiece. Based loosely on the Arabian fairy tale, it is an excuse to poke healthy fun at all sorts of things, starting with the Malay perception of Arab culture itself. P. Ramlee cast himself as a villain and has the greatest exit line in the history of cinema. When someone asks why his corpse is smiling, he temporarily comes to life and says, "Because I died in the faith"—a dig at the sentimental superstition that "bad" people (and his character here is as bad as it gets) must only experience horribly painful deaths.
By 1961, things were getting difficult for P. Ramlee. There were many tense stand-offs between the union and management at Shaw Brothers, where he was under contract, and he found it difficult to work. That the leaders of Singapore were also hostile to unions did not help matters.
P. Ramlee and his wife, the singer-actress Saloma, were lured to move to Kuala Lumpur, the Malaysian capital, in 1964. (A year later, Malaysia and Singapore split into two countries, with the latter becoming a republic.) In Malaysia, he was to be the star of a new studio, Merdeka (Independence). Conditions were not very conducive: the equipment was inferior and there weren't enough good technicians. He persevered nonetheless. The first film he directed there, Si Tora Harimau Jadian (Tora, the Were-Tiger, 1964) is now lost, which is a shame as it was his only real horror movie.
One of his best Kuala Lumpur movies would come a year later, Masam-Masam Manis (Sweet-Sour, 1965), a romantic comedy. Watching it today, you notice how wooden his female lead is, and how unfunny his co-stars are. So it's a testament to his charisma that he manages to make the whole movie (about a teacher who moonlights as a sax player, falling for a woman who is a cabaret dancer pretending to be a teacher) so buoyant. There is great patriotic pride in showing off the landmarks of Kuala Lumpur, too.
He did all his work before the increased conservatism of Malay-Muslim society that started in the mid-1970s, partly as a result of publicity from events that would lead to the Iranian Revolution. So this is something else we mean when Malaysians now refer to "P. Ramlee's time"—a time when naughtiness could be celebrated with a nudge and wink, and people weren't so uptight. In fact, quite a few scenes from his later movies (usually featuring alcohol, gambling, or sensuality) are now censored in Malaysia.
In the late 1960s, P. Ramlee struggled to find relevance. The younger generation preferred imported rock music and sneered at his sentimental songs and "outdated" films. No longer the scrawny youth who could convincingly portray downtrodden romantic heroes, he was now Elvis-fat. He was booed at concerts, EMI cancelled his recording contract, and his films failed to attract financiers. Although rarely discussed, some of the films he made in the late 1960s are fascinating because they have a bleak and bitter beauty. My favorite would be Gelora (Turbulence, 1970), a sexy semi-comic noir considered so scandalous that it is now never shown on Malaysian TV.
The "dark years" of his life were effectively described in a History Channel documentary in 2010:
When it was shown, most young Malaysians seemed astonished at how dire his last years were. This is because, after his death in 1973, P. Ramlee's star shone brighter than ever. Perhaps the posthumous acclaim was to compensate for the neglect inflicted upon him when he needed help the most. But an unfortunate effect is to make him seem infallible.
Certainly, he's sometimes given more credit than due. Fans rave about his lyrics but forget that most of them were written by other people, usually S. Sudarmaji or Jamil Sulong. By making him seem like a total original, they also downplay the extent to which he took from the cinematic and musical traditions of India, Japan and the West.
Still, the work remains. P. Ramlee's primary legacy is his effortless empathy, his ability to connect with his audience, which he could accomplish either through wrenching sentiment or pithy humor.
His songs cover a very wide range—not only romantic ballads but also tributes to the nation, advice, laments, and comic ditties. One of his most fun songs is in the Malay pop-rock style known then as pop yeh-yeh (the name is from the Beatles lyric, "She loves you, yeah yeah yeah," rather than, it would appear, the French yé-yé style).
If the studio system had proved more resilient, perhaps he would have been the first Malay/Malaysian star to become internationally known. But in the space of only 44 years, he packed in a lot (and this isn't a dig at his late-life fatness). It was only when researching 120 Malay Movies, for example, that I learned he and Saloma had musical cameos in the Hong Kong movie Love Parade (1963). Instead of singing one of his compositions, they performed a well-known Indonesian ballad:
The movie actually came out during the time of Confrontation, when Indonesia declared war against the new nation of Malaysia for being a "neo-colonial construct." (Malaysia, unlike Indonesia, was firmly allied with the West during the cold war). But why should this matter? P. Ramlee's star shone brightly enough to eclipse mere political borders. And this is the faith he kept right to the end.

LATEST ARTICLES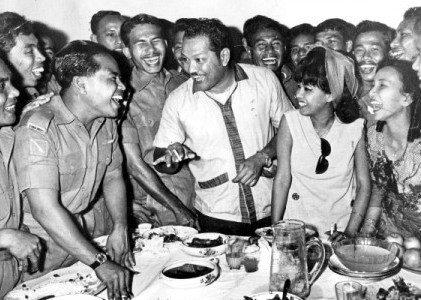 THE AUTHOR
Amir Muhammad is a Malaysian writer, publisher and occasional filmmaker. He is the author of Yasmin Ahmad's Films and the upcoming 120 Malay Movies.
More articles by
Amir Muhammad