Migrating Forms
Displacement and delirium at the Robert Flaherty Film Seminar
Robert Flaherty Film Seminar, BAMcinématek, September 12-14, 2008
Robert Flaherty Film Seminar, Colgate University, June 21-28, 2008
It is perhaps easier to define the Robert Flaherty Film Seminar by saying what it is not than by saying what it is. An annual weeklong marathon of thematically linked screenings and discussions with a longstanding emphasis on documentary and experimental work, it is not exactly an academic conference; the Flaherty, as it's often known, is more attuned to current movements in film and media culture than your average scholarly symposium, not to mention a good deal rowdier. But it is also nothing like a film festival, and in fact creates an environment for viewing and thinking about movies that is pleasingly insulated from the usual press and industry prerogatives of buzz and business. The sense of discovery comes not necessarily from encountering new work—though that's often the case—but more important, from stumbling on unexpected ideas and previously unnoticed connections.
Inaugurated in 1955 by Frances Flaherty, the widow of the pioneering nonfiction filmmaker Robert Flaherty, the seminar has always adhered to its founder's cherished principle of "non-preconception." Program details are not announced ahead of time (only the theme is revealed) and attendees file into screening rooms with no idea what is about to unspool. Participants see all the movies and join in all the discussions, and this captive audience of more than 100, housed communally in university dormitories, includes not just an eclectic mix of academics, programmers, and critics but also the filmmakers (themselves from vastly different backgrounds) whose works are being shown and often heatedly debated. If it seems like a recipe for chaos, it often is, but as the week progresses, the collective sense of intellectual disarray actually starts to seem productive, or at least interesting. The Flaherty experience is by turns frustrating and energizing—discussions mired in dead-end circularity alight on provocative insights, rehashed arguments and false dichotomies seem to inch toward new paradigms. As veterans routinely tell you and as newbies quickly find out, there is nothing else quite like it on the film-event calendar.
The 2008 edition, which took place in late June at Colgate University in upstate New York, had the added advantage of an immense and endlessly resonant theme. This year's curator, Chi-hui Yang, director of the San Francisco Asian American Film Festival, brought together some 40 shorts and features under the rubric of "The Age of Migration," and his smartly conceptualized program—which ranged from documentaries to multi-channel video art to first-person cine-essays to docu-fiction hybrids—captured the mood of the contemporary global moment, even as it stirred up age-old qualms about the ethics of representation and the authority and responsibility of the filmmaker.
The sheer diversity of Yang's lineup amply proved that as migration becomes at once more ubiquitous and more complicated, the proliferation of stories and themes is matched by an increasing multitude of forms. But while there were about as many approaches as there were films, the works could be broadly divided along micro and macro lines of inquiry, between those that tackled migration as a tangible lived experience and those that explored the invisible forces that dictate and compel population movements across time and space.
The week took shape as an around-the-world tour of displaced communities: Kurds on the Iran-Iraq border (the films of Bahman Ghobadi), Filipinos in war-torn Iraq (Lee Wang's documentary God Is My Safest Bunker), Afghans in a French refugee camp (Laura Waddington's Border), Cape Verdeans in a Lisbon shantytown (the later work of Pedro Costa), American Indians in the pre-gentrified downtown of '50s Los Angeles (Kent MacKenzie's recently rediscovered The Exiles), Laotians on the mean streets of '80s Brooklyn (Ellen Kuras and Thavisouk Phrasavath's The Betrayal). But there were also works that dealt with more abstract and diffuse notions, like historical revisionism (James T. Hong), the globalization of labor (Ursula Biemann), border crossings and trade barriers (Lonnie van Brummelen), and maritime space (Allan Sekula).
The program of Flaherty highlights that is being presented at BAMcinématek this weekend bypasses some of the more idiosyncratic works shown at the seminar (including Alison Kobayashi's sly identity mash-ups and Sylvia Schdelbaeur's found-footage autobiographies). What's most obviously missing, of course, is the peculiar brand of Flaherty delirium—the simultaneous clarity and confusion that arises from seeing these films in the context of the seminar.
Still, even in this abbreviated selection, the key points of contention can be discerned (not least because they are by now almost distressingly familiar): what filmmakers have the right to show, how they relate and present themselves to their subjects, who is entitled to tell the story of a particular group. The personal approach elicited few complaints in Renee Tajima-Peña's Calavera Highway, a heartfelt chronicle of her Mexican American husband's road trip to transport his mother's ashes to south Texas. But the video artist Laura Waddington, who narrates her impressionist pieces Border and Cargo (the latter screens at BAM), came under attack for the perceived narcissism of her wispy, observational approach. (One withering critique cited the British artist's "Jane Austen voiceover.")
By the end of the seminar there had also emerged a clear divide between the avowed populists and what someone called "the art-school zombies." Waddington, speaking for the latter group, contended that many of the discussions had emphasized content at the expense of form, thus ignoring the politics of form. In the heated final session Tajima-Peña butted heads with Sekula, who had filled the role of seminar punching bag on account of his meandering essay films but, more so, for his prickly defensiveness under cross-examination.
It was perhaps fitting that the final discussion of the week was the most unruly and the one that, perversely, offered the least hope of resolution. Not all the filmmakers were dragged into the fray though. Denied a U.S. visa (so much for the age of migration), Ghobadi participated in his sessions via webcam. And Costa—who did make it to Colgate and who's represented in the BAM series with Casa de Lava, his update of I Walked With a Zombie—seemed to stand somewhat apart from the rest of this year's Flaherty, much the way his monumental films seem removed from the rest of contemporary film culture. Turning his discussion sessions into absorbing monologues, he disarmed hostile questioners ("Excruciating? Yes, of course, it's supposed to be painful"), reduced his method to irrefutable basics ("It starts with life, plain and simple"), and even spoke up for those art-school zombies. "I like zombies," he said, putting an end, for the moment, to that particular dispute.

LATEST ARTICLES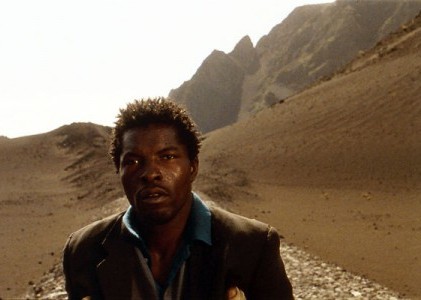 THE AUTHOR
Dennis Lim is the editor of Moving Image Source.
More articles by
Dennis Lim