Manny Farber (1917-2008)
A conversation with Paul Schrader about the late painter and critic
It is fitting that news about the death of film critic Manny Farber, who favored the idiosyncrasy of what he called "termite art" to the establishment authority of "white elephant art," spread insectlike through the film world on Monday, August 18, via the informal buzzing of email, blog postings, and phone calls, rather than through the reporting of mainstream media.
By early Tuesday morning, there was still no news about the death of Farber at the age of 91 on the New York Times website. However, scores of thoughtful appreciations, by critics such as Jonathan Rosenbaum and Glenn Kenny, and GreenCine Daily's links to past interviews and articles, were already posted on the Web, testimony to the notion that the pugnacious individualist Manny Farber is probably the role model for many online film writers, much as Pauline Kael was the main inspiration for critics at alternative print weeklies throughout the 1970s and 1980s. (Note: The New York Times obituary for Farber was indeed posted later that day).
Film critic-turned-director Paul Schrader wrote for the LA Weekly Press starting in 1969. Although he was a self-avowed Paulette (he was literally mentored by Kael, who helped him get admission to the UCLA film school), Schrader was a longtime friend of Farber. In 1995, Schrader made a lovely short film, Untitled: New Blue, commissioned by the BBC, about a 1993 painting by Farber that Schrader owns and displays in his New York office. The canvas is a large-scale collage in which, among many other things, a tall stalk of onion grass exits the frame on the bottom right side and reemerges near the top, and in which mundane objects are arranged playfully against a vibrant blue background. Its jangly bricolage can be seen as the visual equivalent of Farber's unpredictable, playful, and detail-filled writing.
At one point in his short film, Schrader superimposes onscreen these key words from Farber's most influential essay: "Termite art goes always forward with no sign the artist has any object in mind other than eating away the boundaries of his art." Farber's reviews, like his paintings, may have broken boundaries but they always displayed a playful command of form. They were jazz-like, a thrilling mixture of improvisation and control. Here is Farber writing about Taxi Driver in an ambivalent but deeply engaged 1976 review, "The Power and the Gory":
With its nervous-generous hoopla of techniques (including the tic of flicking suddenly to a ceiling shot directly down on a seduction, gun sale, or bloodbath episode), almost every moment of a lumpen figure's hellish career has an assaultive quality, like a gnat banging suicidally against the light fixture.
Paul Schrader (who wrote Taxi Driver) learned about Farber's death by a phone call from film critic extraordinaire and Film Society programmer Kent Jones. In fact, it was an email or two from Jones that sparked the relay of information among the world's cinephiles, who shared news among themselves about the death of this great film critic...or as Farber would prefer, this great painter who also wrote film reviews. I spoke with Schrader by phone on Monday afternoon.
When did you hear that Manny Farber was dying?
About two weeks ago. Kent Jones went to see Manny at his home in California, because Jean-Pierre Gorin had told Kent that Manny was saying his goodbyes. Then Tom Luddy called me yesterday and told me it was imminent. So when Kent told me this morning, I knew.
When did you start reading Farber, or when did you become aware of him, since you started as a critic before you became a filmmaker?
Yeah, it was around that time. In 1971, Kit Carson had a film festival in Dallas and he had the oddest jury. He pulled together Jay Cocks, myself, Andy Sarris, Manny Farber, Dwight Macdonald, P. Adams Sitney, Rex Reed, Jonas Mekas. It was quite a group.
Almost 12 Angry Men.
Yes! So I first met Manny at that time, and I was still reviewing at a film magazine, so I met him as a critic. And then we kept in touch quite a bit over the years, less so after I moved to New York. The last time I think I saw him was about four or five years ago.
And there was a story that you and Marty [Scorsese] made a pilgrimage to see him in the 1970s?
I met Manny in 1972, and met Marty later that year, and we were talking about it, and I said you should really meet him. So we drove down to San Diego to see Manny.
So what was his importance to Marty and you as a film critic?
He wasn't really my main person, I was a protégé of Pauline Kael, and he and Kael were quite dissimilar, so I wasn't really of the Manny school. In fact it's hard to imagine a Manny Farber school of film criticism.
Because he's so unique?
Yeah. And so iconoclastic. The first thing they would do in a Manny Farber School of Film Criticism is shut down!
One thing he said to me early on which seemed to have really informed a lot of his thinking—because he was first and foremost a painter and he was a great admirer of Jackson Pollock—he said the insight of seeing Jackson Pollock's work is the insight of seeing something designed on the vertical presented on the horizontal. Before Pollock, painting was seen horizontally and made horizontally and I think he liked that idea, that you would do something vertically and view it horizontally.
My point being that that kind of perception difference, to try to see things in a different way, at a different angle, that was underneath everything he wrote about films. He was not in the great American critical mainstream. His job was to take that odd approach, find that unexpected insight. He couldn't imagine himself writing the way a professional film critic does, like David Denby works—Manny simply couldn't do that.
Kael famously said she never saw a film more than once, and you can imagine Farber watching a movie 20 or 30 times. His review of Taxi Driver comes to mind as an amazingly interesting review. He saw things in that film that nobody else saw.
I don't remember the review, because I try not to remember what critics write. But Manny was always good for his deeply idiosyncratic insights, and you had to not take him entirely seriously because he didn't take himself entirely seriously at that level.
One thing he did take seriously, and I'm thinking also about what you did for film noir, paying attention to that before many other people did, was the attention he paid to American directors at a time in serious film criticism when most of the focus was on European directors. To me that's a big contribution.
Yes, you're talking about just immediately proceeding Sarris, before Andy weighed in with his bible.
Yes, I'm thinking of Farber's focus on Hawks and Fuller...
Yeah, he has his roots way back, he goes back to the Robert Warshow days. Andy is probably the last of the full old-time critics who encompass film history. Farber wasn't one of these because he wasn't really a full-time critic. And he didn't make it his business to try to see everything. Even if he only saw one film by someone, he could have an opinion without having seen the other films they made. So it was a unique approach.
It was more about responding to one film in front of him. And how would you relate his painting to his criticism?
I have one of his paintings; I made a little film about it. I haven't thought about it that deeply enough to have an informed opinion.
Were there any particular reviews or pieces of writing he did that stick in your mind?
Well, the Negative Space stuff was very important. For me, the three most important books in American film criticism would be Sarris's American Cinema, Manny's Negative Space, and Pauline's Kiss Kiss Bang Bang. That's really the shortest bookcase of American film criticism.
Sarris and Kael were more in the limelight, to the wider culture.
Manny basically walked away from it. Just at the point where he was getting some acclaim after Negative Space came out, I was seeing him quite a bit at that time. He made it very clear to me that he wasn't interested in films or film reviewing. He was interested in painting.

LATEST ARTICLES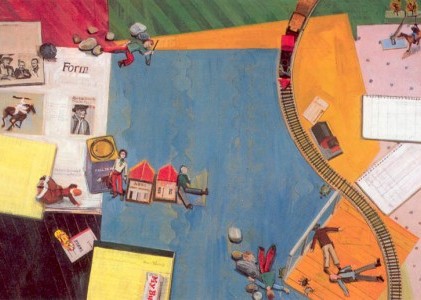 THE AUTHOR
David Schwartz is the Chief Curator at the Museum of the Moving Image. He is also a Visiting Assistant Professor in Cinema Studies at Purchase College.
More articles by
David Schwartz