Manakamana's Stephanie Spray and Pacho Velez
In this latest installment of the Reverse Shot Talkies video interview series—an exclusive presentation of Moving Image Source and Reverse Shot—Pacho Velez and Stephanie Spray revisit their film Manakamana while riding the Roosevelt Island Tram. "We didn't quite know how it would play out, but that was probably the greatest joy of making the film," Spray says about Manakamana, shot entirely in a cable car that travels to and from a temple high in the mountains of Nepal. Though the camera never moves, and every shot is just over ten minutes in length, each trip offers a different perspective. Reverse Shot playfully tries to emulate the experience of the film in this short video. "At first I was very aware of the camera, then I forgot about it," says Velez of this interview. "Which probably very much mirrors the experience of our characters."

Watch a trailer for Manakamana here.

Read a review of Manakamana at Reverse Shot.


LATEST ARTICLES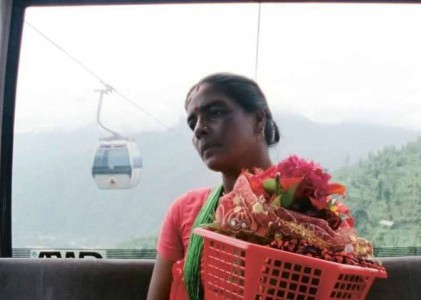 THE AUTHORS
Eric Hynes is a journalist based in Brooklyn. His writing has appeared in outlets such as the New York Times,Village Voice,Rolling Stone, Time Out New York, Slate, Movieline, and Cinema Scope. He's also a staff writer at Reverse Shot, where he hosts the online Talkies video series.
More articles by
Eric Hynes
Jeff Reichert is co-founder and editor of Reverse Shot, as well as the director of three films: Gerrymandering (2010), Remote Area Medical (2013), and This Time Next Year (2014).
More articles by
Jeff Reichert