Foreign Correspondence
An appreciation of John Cook, Austrian cinema's great Canadian auteur
One of the crucial figures of Austrian cinema was Canadian: John Cook (1935-2001), self-confessed "Viennese by choice" made only four films in his adopted country, which have achieved nearly mythical status in Austrian film circles. It is easy to see why: the groundbreaking, unforced realism of the medium-length documentary Ich schaff's einfach nimmer (I Just Can't Go On, 1972/73) and the three features Langsamer Sommer (Slow Summer, 1974-76), Schwitzkasten (Clinch, 1978), and the neglected Artischocke (Artichoke, 1982) still startles, even as "realistic" filmmaking has become the national cinema's norm. You could even call it a cliché, since your average Austrian slice of depressive realism is clearly geared toward certain expectations of the arthouse and festival circuits—by comparison, the almost preternatural pull of Cook's unprejudiced vérité seems even more exceptional. And now it is ready for international discovery thanks to a DVD release with optional English subtitles by the Austrian Filmmuseum (full disclosure: I regularly write their program notes, but have nothing whatsoever to do with their DVDs). The set includes two discs with Cook's first three films, using the institution's own, recently restored negatives, given the quality digital transfer one expects after previous releases like the superb disc of Huillet/Straub's Klassenverhältnisse (Class Relations, 1984).

Those three films—independent productions in every sense of the word—must have looked like UFOs upon release, as Austria's postwar cinema was largely marked by a conspicuous absence of noteworthy attempts at realism. Yet this immigrant's portraits of Austrian milieus, whether lower-class (Ich schaff's einfach nimmer), bohemian (Langsamer Sommer), or proletarian (Schwitzkasten), were free even of the didacticism his most committed Austrian contemporaries could not entirely avoid. Partially because they carried national ballast, grappling with historical debts that mattered little to Cook (intriguingly, as Olaf Möller has noted, while Cook may have run counter to Austrian film history, he was perfectly in step with Canada's realist tradition). Also these Austrians, like Axel Corti, usually worked (for practical and other reasons) for television and had to fulfill certain "educational" expectations. In that respect it is illuminating that a second, shorter cut of Ich schaff's einfach nimmer was made, ostensibly for television, catering to its well-meaning reportage style, thus marred by unhelpful "explanations" and a somewhat patronizing attitude toward its protagonists.

But in the original cut (on the DVD) Cook wastes little time wringing hands about the adverse social surroundings of his two outsiders, even as he duly notes them. Instead, his lively film is full of off-the-cuff moments of warmth, solidarity, and unexpected poetry. It shows exactly Cook's ambivalence and the affection this ever curious filmmaker had for (almost) all his characters, which keeps his films fresh. In the case of his touching debut, there is also a spontaneity of camerawork, a roughness in appearance, and an attention to authentic attitude and speech that invokes the spirit of 16mm direct cinema in its prime. Fittingly, legend has it that Ich schaff's einfach nimmer was improvised on the spot by Cook, as the subject(s) fell into his lap: his cleaning woman, and her gypsy husband, who is half as old (24) and wants to become a boxer (he invokes Muhammad Ali, still called Cassius Clay). Some short, playful stabs at fiction point toward Cook's future—and serve as a reminder that this adroit director did not really come out of nowhere. Having become weary of his career as a famous fashion photographer, Cook abandoned his job (and Paris) in the late 1960s, moving with his girlfriend, model Elfie Samotan, to her Austrian home. Apart from being an expert with the still camera, Cook made some commercial and industrial films and served as director of photography on a student short film in 1970.

Actually, Cook finished his last ad campaign—a hugely influential one, for the mineral water Römerquelle—in 1975, while working on his most astonishing film: Langsamer Sommer, co-conceived (like the Römerquelle ads) with Michael Pilz, one of the outstanding outsiders of Austria's cinema (and the subject of a Filmmuseum tribute this month), is an easy-flowing, unpretentiously complex "diary movie" puzzle about the strange (love) lives of Cook, his friendships and petty feuds with other artists (everybody plays "themselves"), the magic of warm beer and languorous summer afternoons, and especially the way light falls and people move through Vienna's maze of streets in the early 1970s. Cook twists the film's autobiographical roots (processing his separation from Samotan) gently into fiction: a movie shot four years ago is watched and commented upon by two central figures, including Cook, whose accented German adds to the unique charm. Privately financed, cheaply shot on Super-8 and blown up to 35 mm, and drawn toward the supposedly insignificant, which becomes mysterious and beautiful, Langsamer Sommer is the quintessential expression of Cook's drifter spirit. The film was compared to the private filmmaking of Jean Eustache and other great contemporaries, but actually it was (and still is) sui generis.

Especially as Schwitzkasten, a 16mm chronicle of the life of often luckless worker Hermann, abandoned the labyrinthine, lingering feel of its predecessor in favor of clear, classical construction. Flawless in its nearly neorealist portrayal of the Viennese proletariat (played by amateurs), it has been canonized as Cook's masterpiece and an unattainable model for today's Austrian realism. Certainly, when compared to the pessimism of recent Austrian films, it seems incredible that Schwitzkasten was chided for defeatism. Rather, it is ambivalent in typical Cook fashion. Hermann may adopt petit-bourgeois ideas, but there is real and realistic change; encouraging signs of solidarity mingle with disillusioned insights about the capitalist system, whose headlock Hermann may not escape, but to which he does not yield either. (Thus Headlock, the literal translation of Schwitzkasten, seems preferable to Clinch, a working title). Any complaints about the film could instead concern its self-conscious touches: the measured beauty of the shots (and the way they flow into each other) is almost too good to be true, and the social stance is bluntly reinforced through an atypical caricature (a hypocritical writer, played with gusto by writer Franz Schuh). But this is nitpicking. I think of a Slovene friend and colleague, initially reluctant to accompany me to a screening as the print was not subtitled—then emerging elated, saying he felt he understood everything, since it was expressed with that seeming simplicity achieved only by certain works of greatness. And if you don't trust him, now there's always the optional subtitles.

One concern remains: with this DVD the Austrian Filmmuseum, always closely related to Cook, continues its commitment to the Austro-Canadian after a landmark volume in 2006 with illuminating texts and interviews (in German) and the filmmaker's diary (in English). But hopefully the release of his "three main works" (per the booklet) is not the end. Firstly, Artischocke, a Rohmerian meditation on failure, haunted by an undeserved reputation ("Cook's failed attempt at fully professional filmmaking") is equally magnificent. Secondly, Cook's farewell, finished on video in France, where he went after all further projects in Austria got nixed, is more than the reported curiosity that rounds out Cook's career with a symmetrical coda. José Manrubia Novillero d'Arles (1990/96), a medium-length work about an aspiring torero (complementing the wannabe-boxer of Cook's debut) is admittedly uneven, but full of astonishing movements—and, touching on the themes of exile, death, and transfiguration, an appropriate testament.


LATEST ARTICLES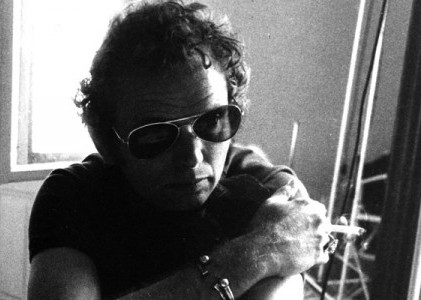 More
Photo Gallery:

Foreign Correspondence
THE AUTHOR
Christoph Huber is a film critic and editor at the Vienna daily Die Presse and a contributing editor at Cinema Scope. He writes most of the program notes for the Austrian Filmmuseum and contributes regularly to various international film magazines and anthologies.
More articles by
Christoph Huber