Empire of Signs
Get Out of the Car
and the living ruins of Thom Andersen's Los Angeles
In Los Angeles Plays Itself (2003), an essayistic "city symphony in reverse," Thom Andersen surveys the way that Los Angeles, despite its status as the most filmed city in the world, is consistently misrepresented in the movies. The Los Angeles he seeks, the one he and the majority of the city's 4 million inhabitants live in, is almost never shown onscreen. From L.A. Confidential's malevolent characterization of modernist architecture to the errant palm trees in what is supposed to be a Chicago stockyard in Union Station, few details escape Andersen's meticulous attention, and as he describes, he's looking for the documentary moments buried within the fiction.
Andersen's new film, the 34-minute Get Out of the Car, forms the positive to Los Angeles Plays Itself's negative, expressing this documentary desire outright. Its early shots depict frayed and peeling billboards, and from offscreen we hear the voice of a curious bystander ask Andersen what he's filming. "It's a documentary about signs," the filmmaker explains matter-of-factly, but the questioner persists. "But there's nothing there. It's empty." To a certain extent, he's right: this is the Los Angeles that Hollywood and most of the world tends to overlook, haphazard patterns of sprawl and urban decay that clutter the ground of more monumental establishments like Grauman's Chinese Theater or the Santa Monica Pier. But Los Angeles isn't like other cities. Its most iconic image, after all, isn't a deco-clad skyscraper or a gothic cathedral, but the Hollywood sign, an advertisement for a real estate development project that no longer exists. Andersen offers a brief digression on the sign in Los Angeles Plays Itself, touched by the notion that something so ordinary, so ephemeral (the original "Hollywoodland" sign was meant to last only a year and a half) could come to stand for the city itself. Perched atop Griffith Park, the Hollywood sign names a place, but one that perhaps existed only in palm-lined fantasy. This is the fable and fate of Los Angeles that Andersen exposes in Los Angeles Plays Itself and reconstructs in Get Out of the Car. Though it may appear to be "nothing," the city he describes is less about what's there, what we see, than the people and places that have slipped from view.

Not every film about Los Angeles has gotten it wrong, however. Get Out of the Car, which first showed in Locarno and Los Angeles, with upcoming screenings in the Wavelengths program at the Toronto International Film Festival and the New York Film Festival's Views From the Avant-Garde, belongs with exemplary documentary portraits of the city like Agnès Varda's Mur Murs and James Benning's Los, as well as the photographic studies of Walker Evans and Robert Frank. But Andersen's latest is perhaps the most intimate among these: shot from street-level, with the camera angling up at billboards or facing storefronts directly, the city Andersen films comes across not only as an object of fascination, or even love, but as his home, a place filled with as much loss and mystery as beauty and familiarity. And while he used a narrator in previous documentaries, here Andersen speaks for himself. From behind the camera, we hear him talking to his crew, onlookers, or no one in particular, his voice by turns outraged, tender, sober, and bemused. "Is this a strip club or a parking garage?" he wonders before one establishment. "Either way, it's a beautiful building." But despite these tonal variations, the polemic of the film is clear. "Get out of the car!" shouts Richard Berry at the beginning of the film, and in a city where it's assumed that everyone drives (in Noah Baumbach's Greenberg, not having a license is tantamount to severe psychological impairment), the film's title is an injunction to see Los Angeles differently, to experience the city on foot and to join the vast, unseen population that can't afford to own a car.

Composed mostly of static shots, Get Out of the Car fixes its attention on the decaying surfaces of the city, from the crumbling walls of neighborhood auto shops to the empty lots where popular burger joints and nightclubs once stood. This is the built environment ravaged not only by the natural one, but by the development zeal of city boosters. Andersen's signs are wind-torn, sunburnt, cracked, and painted over, marking the city's cultural effacement in strikingly literal ways. In a lengthy middle segment, the film narrows its focus to the religious murals painted on Latino storefront walls. As Andersen explains in a commentary he wrote on the film (to be published in an anthology on film and cities edited by Mark Street, and also part of the proceedings for Cambridge University's "Urban Cinematics" conference), storeowners often use religious imagery to ward off graffiti, though the tactic, as devout as it is pragmatic, is not always effective. In one instance, a painting of the Virgin of Guadalupe is covered by the letters "BK," a Crip gang threat made against the rival Bloods. The spray-painted shorthand for "Blood Killers" claims a new territory by writing over what existed before, and the crossed-out "B" signals yet another form of erasure. Get Out of the Car sketches these transitory moments, also celebrated in the ad hoc entrepreneurial humor of Mayra's Wedding Chapel (which advertises both marriage and divorce services), the absurdity of a giant elephant promoting a fencing company, and the crepuscular tristesse of a neon array of signs flashing the word "open." Like Andersen's 1966 documentary Olivia's Place, which lingers on the shiny laminate countertops and vinyl seats of a now-defunct Venice diner, Get Out of the Car is infused with the sense of a city in the process of vanishing, its transient landmarks steadfastly regarded through the camera lens. And while film might constitute a kind of immortal afterlife for these places, Andersen, who before returning to celluloid with Get Out of the Car has worked primarily in video for the past decade, is all too aware of the declining availability of 16-mm film, itself a relic of an age well into passing.

People are more often heard than seen in Get Out of the Car, and in this sense the film recalls Baudelaire's "To a Passerby," a poem about the fleeting encounters of the city. As the nineteenth century flâneur follows the traces of a departed woman in a Parisian crowd, Andersen's subjects are also tracked through the faded posters and record grooves they leave behind. Specifically, he seeks the Latino communities, who, despite making up the majority of Los Angeles' residents, remain mostly invisible to the white inhabitants who live in the city's most affluent neighborhoods. The film is bilingual and, as Andersen affirmed last month at Get Out of the Car's U.S. premiere at Los Angeles's Cinefamily program at the historic Silent Movie Theater, the lack of subtitles is meant to underscore the gaps of understanding and experience for monolingual audiences. Still, even if some of the film's sung or spoken Spanish remains untranslated, it's hard to miss the note of sorrow in the doleful tear of a storefront Jesus, or in the lyrics of the film's concluding track, Los Tigres del Norte's "Ni aquí ni allí," which translates to "neither here nor there." The lament, sung from the perspective of a migrant Mexican worker, extends beyond Los Angeles's Latino population to all of its immigrants: poor, suffering, and made to feel they don't belong, except maybe as consumers hailed by advertisements printed in their mother tongues.

Despite this civic denigration, Andersen finds in these forgotten neighborhoods a vibrant vernacular culture expressed in painting, sculpture, and especially music. Rock, soul, norteño, R&B, surf, punk, gospel, and jazz flood the static, tripod-planted images, animating each dilapidated street corner with the songs and sensations of moments past. There's Brenda Holloway singing her mournful Motown classic "Every Little Bit Hurts" as the camera pans over a corrugated garage door, layers of bright orange streaked with abstract swaths of white; and over a set of stripped and eroded billboards Big Joe Turner's breakup song "Blues on Central Avenue" stings with an astringent irony: "I'm in the land of sunshine." There's Concrete Blonde singing Woody Guthrie's bilingual protest anthem "Deportee (Plane Wreck at Los Gatos)" over a metal sign so rusted it looks scorched. And when a man hears Los Tigres del Norte's homesick ballad "El Mojado Acaudalado," we hear him say in Spanish, "That song ripped my soul out."

These are the "living ruins," as Pauline Kael described The Exiles (1961), Kent MacKenzie's lyrical, neorealist-inspired portrait of an itinerant group of Native American youths set in a bustling Bunker Hill on the eve of the downtown district's demolition. The film had been given up for lost until Andersen recovered it in Los Angeles Plays Itself, and the attention it received through his efforts led to its preservation by the UCLA Film and Television Archive. In a similar way, Get Out of the Car restores a sense of memory to place: at various moments Andersen films signs that he made to mark the sites for Harvey's Broiler (later Johnie's Broiler) in Downey, a landmark drive-in restaurant torn down, turned into a used car lot, and now slated to become a Bob's Big Boy; the looped razor-wire tract of what used to be the collective South Central Farm; and in Watts, the site of the Barrelhouse, an R&B club started by Bardu Ali and Johnny Otis in 1948, now abandoned save for a sign advertising funerals for $2,695. Cleveland Duncan and the Penguins' "Memories of El Monte" floats over a sequence at Johnny Otis and Art Laboe's El Monte Legion Stadium, a club that withstood racial segregation in the 1950s, and now a parking lot for post office employees. Andersen records the sign he made about the landmark, and then in the film's most moving segment, against an empty blue sky, he holds up black-and-white photographs of the building that used to be there. It's a gesture that can perhaps only exist in film (the sequence of photographs recalls Hollis Frampton's (nostalgia)), the insistence of fixing a certain memory or presence to a place, even as we're reminded by the clicking camera that this moment, too, will pass.
This is how we traverse Andersen's Los Angeles, the incidental and accidental lit up by music, and where they no longer exist, they're rewritten by new signs, and reawakened by film. Get Out of the Car moves us through the city, both familiar and foreign, the past alive in the present. It's a kind of movement through sight, through signs, and as we regard these forgotten and neglected spaces, and listen to the songs and voices that flesh out the city's unforgiving stretches of concrete, the film offers us a way of seeing Los Angeles differently, and more than that, a different way of seeing altogether.

LATEST ARTICLES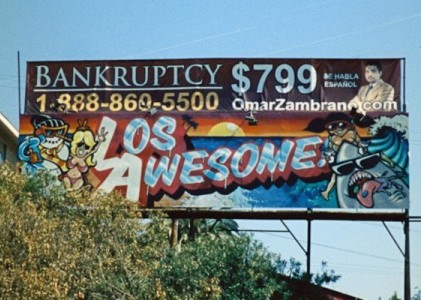 THE AUTHOR
Genevieve Yue is a scholar and critic based in Los Angeles. Her writings have appeared in Reverse Shot, Film Comment, Cinema Scope and Senses of Cinema.
More articles by
Genevieve Yue