A Nude by Garrel
That Summer
, the representation of beauty, and the law of love
To start the New Year, the Museum introduces First Look, a new annual showcase curated by Dennis Lim, Rachael Rakes, and David Schwartz. This two-weekend program-which brings together some of the most invigorating and inventive voices in contemporary world cinema, including established and emerging filmmakers-affirms our belief in cinema as a flourishing art form. To supplement the program, Moving Image Source is running a series of essays on all the feature films that are being shown. Check back daily from now through next weekend for new articles.
This piece was originally published in French on the web site Independencia and is reprinted with permission of the author. Translated by Andréa Picard.

During the press conference last September for Un Eté brûlant (That Summer) at the Venice Film Festival's Casino, someone asked Philippe Garrel to explain the whistles and jeers heard at the end of the screening. To this false question, Garrel gave a false answer, but one that contains real insight: his cinema is not nonconformist, rather it stems from his nonconformity.
It's the story of Frédéric (Louis Garrel), of how he came to attempt suicide by crashing his BMW into a tree, a story told by his friend Paul (Jérôme Robart). Frédéric is a painter and an heir, but also the grandson of a communist resister. Paul also had artistic aspirations, but he abandoned them in order to make a living playing bit parts in films. Garrel never forgets that art is a luxury. It's a gift, in the sense that it is imperative—irrespective of talent—that money be given in order for art to be made. And next to art, there is life. Frédéric loves Angèle (Monica Bellucci), and has forced her to renounce her career as an actress. Paul meets Élisabeth (Céline Sallette) on the set of a (bad) film depicting the exploits of war that resounds with the memories of Frédéric's grandfather. As you can see, things get complicated. And it's only the beginning. Undoubtedly, the love between Frédéric and Angèle, as much as that between Paul and Élisabeth, is only possible through the negation of art: to not make films or not to act in bad ones. This dislocation between art and love is intensified and mirrored by the disconnection between life and politics. Paul is an extreme left-wing militant. One night while walking with Frédéric near the La Chapelle metro station in a poor, ethnic neighborhood of Paris, he witnesses a police raid. The two friends do not slow their pace, and Paul limits his action to a single comment: What an asshole, that Sarkozy.
Monica Bellucci and Louis Garrel in Un Eté brûlant
Un Eté brûlant is one of the most theoretical of Garrel's films, yet theory for Garrel is never used as a weapon or a refuge. It is a naked and fragile film. While rewatching it, many explicit evocations from Godard's Contempt come to mind, and especially Holderlin's poem as quoted by Lang: "Man, when necessary, can remain alone before God, his candor protects him and he needs neither weapons nor tricks." Garrel knows that the great majority of films today are nihilistic. Garrel also has doubts. His nonconformity does not stem from the fact that he still believes in love and the revolution. He does not hide behind pseudo-idealistic speech. His desire for sensuality, for matter, and for revolt has certainly not diminished. But he clearly sees how this desire today, especially within French cinema, produces films that are both grotesque and hypocritical. Bellucci's character, a naked woman lying on a bed like Bardot in 1963, is proof not of nostalgia but of a contradiction. In Garrel's film, she incarnates an actress from long ago: a physical being perfectly placed and propped up on a physical scaffold. But Frédéric does not want her to act, nor does he want to paint her. As if this desire for the representation of beauty had become obscene and contrary to the law of love. To love today, one does not allow the object of our love to exist in a falsified image.
Céline Sallette and Jérôme Robart in Un Eté brûlant
The two friends are lounging on the large terrace of Frédéric's Roman apartment. They talk, drink, and look straight ahead as if they were watching television. The reverse shot depicts a party scene. Angèle is dancing among fellow guests, then at length with a young man. Their dance is beautiful and sensual (a successful party scene, so rare). Frédéric suffers and sulks, and at the first chance he gets, accuses Angèle of being a slut. A simple jealousy scene within the economy of the drama; later on, he will be just as disgusted while watching her act on set during the filming of a period piece at Cinecittà. But already during that instance, despite its being a quotidian and ordinary moment, Frédéric gives the impression of being less troubled by her cheating than by the obscenity of a film's scene, of a spectacle.
Within the pages of Independencia, we have often and harshly criticized the cynicism of the "cinema of quality." This cynicism consists of, among other things, reclaiming the legacy of an auteurist cinema that no longer exists and one that has become incomprehensible to the masses. If I defend this film, it's because I deeply believe it to be beyond all cynicism. Garrel does not tell us that we (the audience) have become deaf and nihilistic. In a final and extremely moving scene, he says exactly the opposite: it is the ghosts from the past, our grandfathers, who, despite their goodwill, can no longer hear us properly. This does not prevent them from loving us.

LATEST ARTICLES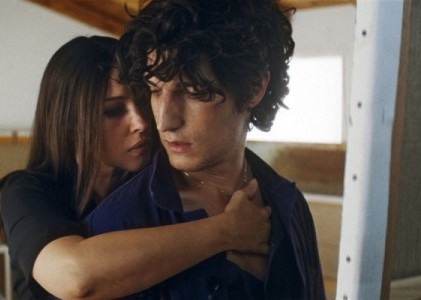 RELATED CALENDAR ENTRY
January 6–15, 2012
First Look
THE AUTHOR
Eugenio Renzi wrote for Cahiers du cinéma from 2004 to 2009, when, with Antoine Thirion, he created Independencia, a new cinema review based on economic and editorial independence. He has also written for Vertigo, Ciak, Panoramiche, and Duellanti, and is the author of Nanni Moretti (2008, Editions de L'Etoile).
More articles by
Eugenio Renzi