Seasonal Disorder
Ingmar Bergman's sensual
Summer
films and the transience of youth
Seven sparely composed landscapes, one succeeding the other in quick dissolves, form a foggy, quietly alluring entrée into Ingmar Bergman's Summer With Monika (1953). I say landscapes, but these images contain as much water as land. The water will come to represent the promise of escape for the film's protagonists, and it doubles the landscape, somewhat portentously, by reflecting it. When moments later we first lay eyes on lovely Monika (Harriet Andersson), she's regarding her own reflection, contentedly aware of her loveliness, in a circular mirror facing the entrance to the produce wholesaler's where she toils while fending off the advances of lecherous co-workers. In the film's closing scene that same mirror will reflect the faces of Monika's estranged husband, Harry (Lars Ekborg), and their infant child. By this point that titular summer has long since passed, the young couple's reckless romance has run aground, their time adrift snared in a cul-de-sac. The reflective surfaces reveal only faces divested of tenderness, hardened by compromise.
Lars Ekborg and Harriet Andersson in Summer With Monika
Summer With Monika, along with Sawdust and Tinsel (1953), announced Bergman as a major international filmmaker. Criterion's release of Summer With Monika and the somewhat similar Summer Interlude (1951) on DVD and Blu-ray offers us the opportunity to re-examine this transitional early phase in Bergman's career, which predates the weighty themes of religious doubt, psychic malaise, and middle-aged marital discontent that would later define his brand. Monika in particular reveals Bergman as a fully formed auteur in possession of a singular approach, one grounded in theatre and geared toward intimacy and austerity, in the service of tough, compassionate stories of youth's evanescence. These films also inaugurated Bergman's role as Sweden's cinematic ambassador, however problematic this assignation would become. Summer in a cold country is an almost Bacchanalian ritual, synonymouswith ecstatic release, especially for people young enough that every change of season is accompanied by the shock of surprise. Summer is a time of erotic discovery, and Summer With Monika was my first Bergman. I was a teenager, living in the suburbs of a large flat city in Western Canada that spent half the year buried under snow, and I vaguely associated Bergman with something intriguingly adult: what drew me to rent Monika were mostly the hints of nudity and sexual transgression alluded to on the VHS box. (I'd later learn that the prospect of seeing Andersson's nakedness led many to make Monika their first Bergman, among them Woody Allen.) I watched the film in the dead of winter, and its images of the boy and girl, frisky, liberated from family and work, traversing the Swedish archipelago in their small boat, without destination, made me long for that summer warmth that seemed impossibly far in the future.
Harriet Andersson in Summer With Monika
But first things first. Like Monika, Summer Interlude, co-written by Bergman and Herbert Grevenius, begins with a series of images of unpopulated landscapes, evoking a bucolic tranquility before immersing us in the hubbub of a ballet company preparing a dress rehearsal of Swan Lake. At 28, Marie (Maj-Britt Nilsson) is one of the older dancers and seems more distant, reserved, and distracted. A power outage in the theater and the unexpected delivery of a journal once kept by an old flame prompt Marie's journey to an island where she once lived and into memories long forgotten: 13 summers ago, she fell in love with an awkward young student named Henrik (Birger Malmsten) and lost both her virginity (the original English-language title was Illicit Interlude) and her innocence regarding mortality. Marie and Henrik's summer alternates between Edenic pleasures of boating, swimming, picking wild strawberries, and making love (however chastely alluded to), and fights over Henrik's jealousy of Marie's devotion to her dancing and her flirtation with a creepy but sophisticated uncle. After Henrik dies in a diving accident, Marie's grief manifests as blasphemous anger: she tells her uncle she wants to spit in God's face (a girl after Bergman's own heart).
Maj-Britt Nilsson in Summer Interlude
Summer Interlude can be too easily dismissed as the lesser half of Bergman's summer diptych, or the dry run for Monika's fuller, earthier accomplishments. Certainly the more banal of the pair, it bears traces of the one-to-one symbolism that Bergman would gradually excise from his work (e.g., the pan upward to find the colossal cloud looming over Henrik's death scene or the apparition of Henrik's black-clad, white-faced, long-dead aunt as Marie returns to the island). It's told in wistful flashback as opposed to Monika's more immediate present tense, and the story of a ballet dancer having to choose between art and love recalls The Red Shoes (1948), a more ambitious work still fresh in the public's memory at the time. Yet there are elements in Summer Interlude that represent a leap forward in Bergman's oeuvre: Nilsson's warm, infectiously giddy performance and the subtle emotional gradations captured by Bergman's patient and attentive camera; the beautiful staging of Swan Lake; the tranquil, nearly still landscape shots of the same Baltic archipelago that plays such an important role in Monika. The influence of Italian neorealism evident in earlier Bergmans, such as Port of Call (1948), would for the most part dissipate as Bergman developed his directorial signature, but the urge to leave the studio and shoot on location, to use the natural world as a pivotal source of atmosphere and landscape as a mirror for his characters' inner lives would only grow.
Cinematic storytelling techniques represent an advancement of such magnitude that Bergman himself recognized Summer Interlude as his first truly original work. "This was my first film in which I felt I was functioning independently," Bergman told Stig Björkman in the late '60s, "with a style of my own, making a film all my own, with a particular appearance of its own, which no one could ape....Suddenly I knew I was putting the camera in the right spot, getting the right results." The film's emotional resonance, and Bergman's confidence, may have to do with the project's autobiographical roots: Bergman was just a teenager summering with his parents in Smådalarö when he had a brief love affair with a young woman who would eventually succumb to polio. It's telling that when Bergman set out to realize this experience on film, his role would be given to a woman. From this point on the vast majority of Bergman's most complex and compelling protagonists would be women. Male characters could often reflect the side of Bergman given to agonized self-loathing, whereas women embodied a richer fascination with transgression, the body, and the mysteries of the self.
The original 1956 U.S. exploitation circuit release of Summer With Monika was entitled Monika, the Story of a Bad Girl. The title was tacky but not inaccurate; you might say Monika is a bad girl in all the best ways. Poor Harry, shy and boyish, looking like little Ricky Schroder, barely seems to know what to do with her, yet he's hopelessly enthralled and ready to follow her anywhere. Monika smokes and curses and flirts and misbehaves and is utterly charming. On their first date she stays up all night with Harry, sitting on a park bench watching the sun not so much rise over their industrial seaside town as smear itself behind the clouds. She tells Harry when to kiss her, and she's the one to make the first move, unbuttoning Harry's shirt and stroking his shoulder. She's the one to run away from home (though it's Harry who stows her away in his father's boat). She shows her body to Harry on the sun-warmed, smooth-stoned beach in an exquisitely delicate scene. She's the one to conquer the sociopathic intruder Harry can't fight off on his own. Much later, when they're out on their own with no money or clean clothing or food, moving aimlessly from isle to isle, she's the one who breaks into a stranger's home and steals the pot roast, which she'll attack like a starved animal after she's escaped and hides out in the woods alone (an image that anticipates another Monika, Monica Vitti, when she hides away from prying eyes to gobble up a sandwich in Antonioni's Red Desert [1964]). It isn't that Harry is entirely ineffective; on the contrary, when autumn comes and their baby's on the way, it's Harry who pulls up his socks, finds them a home, and goes back to work. It's just that when one is so young and uncertain, cowed by life's possibilities and then faced with a creature like Monika, what else can one do but count one's blessings and try to keep up?
Harriet Andersson and Lars Ekborg in Summer With Monika
Monika is rarely included in the pantheon of Bergman's most important works, yet lest we forget its impact on those who were around back then, in a review printed in the July 30, 1958, issue of Arts (reprinted in its entirety in Criterion's accompanying booklet), Jean-Luc Godard declared Summer With Monika "the most original film by the most original of directors. It is to the cinema today what Birth of a Nation is to the classical cinema." And this was written after The Seventh Seal (1957). It's difficult to underestimate the near-palpability of this film's sensuality (the cinematographer of both this and Summer Interlude was the talented Gunnar Fischer, though the mise-en-scène is recognizably Bergman's, regardless of collaborator) and the disarming naturalism of its lead performances.
The film's defining moment, and one that feels like a bridge from Bergman's early classicism to the modernism of his later work: in some café we see the hands of an unknown figure plunk a coin into a jukebox. The music starts, and the figure moves toward Monika, seated and waiting, and lights her cigarette before he leans his face toward hers, as if asking for a kiss though he merely asks for his cigarette to be lit from her burning end. Monika then eases back into her seat and looks right at the camera with a gaze difficult to read but devoid of the playfulness or petulance of earlier scenes. She conveys a new knowingness, a cold maturity perhaps, an unapologetic resolve; a slim dimple is now visible on the side of her mouth. The scenery behind her fades to black, and now there's no mistaking the breaking of the fourth wall. It's just that face and the camera, just Monika looking at us and us looking at her from whatever time and place, perhaps judging her, perhaps pleased for her, or simply taking this all in, the quiet audacity of this sublime moment. Godard called it "the saddest shot in the history of cinema," but it's also exhilarating in its ambiguity and confrontation. With striking economy it seizes upon something of youth's transience, and seeing it again after so many years makes me long for a certain summer warmth, one available only to the very young, that now seems impossibly far in the past.

LATEST ARTICLES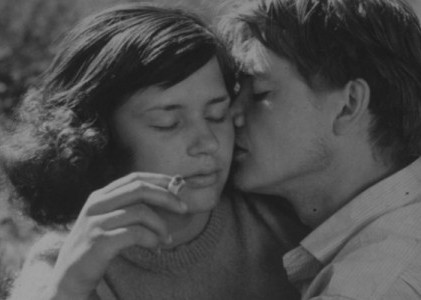 THE AUTHOR
José Teodoro is a Toronto-based critic and playwright. His writing on film has appeared in Film Comment, Cinema Scope, Stop Smiling, and Cineaste.
More articles by
José Teodoro